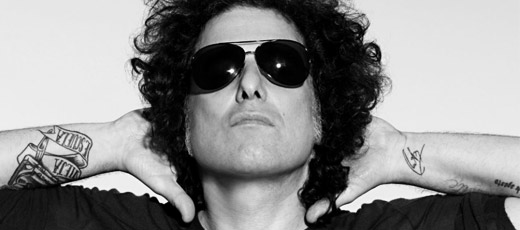 Andres Calamaro is a famous argentine singer, songwriter and producer, who won a Grammy Award and was part of the music group Los Rodríguez.
Andrés Calamaro is a famous Argentinean rock musician and song writer. He was born in 1961 and just 17 years later he would play keyboard with the group Raíces. From these early beginnings, the musician would go on to tirelessly create a steady stream of songs year after year, many of which explored a wide variety of musical styles. Despite dismal public and critical reception of some of his perhaps over-the-top experimental albums, Calamaro was never afraid to fuse genres and search for unique sounds. His uncompromising personal and artistic attitude along with candidly introspective lyrics, often desperately sad in nature, offers listeners of his music an intimately sentimental experience that may help us at times cope with the challenges in our own lives. Today, Calamaro continues to make music. His 2010 "On the Rock", is the latest of his 20 studio albums.
After his first album performance with Raíces, the Argentine rocker formed the short lived group The Elmer Band. Shortly afterward, the young keyboardist joined Argentina's legendary Los Abuelos de la Nada, in an early 80s revival of the late 60s group. Calamaro wrote many of the band's songs that went on to become Major hits in Argentina. Chart topping albums include Vasos y Besos (1983) and Himno de mi Corazón (1984). Not long after the intense success of Los Abuelos, the band broke up. Calamaro, perhaps anxious to let his personal brand of creative expression run wild after group work with Los Abuelos (an internal rivalry seems to have existed between Calamaro and band leader Miguel Abuelo), he began cutting solo albums that featured a strange mix of guest musicians and impossible harmonies. He followed the bewildered fan reaction of his 1984 flop Hotel Calamaro with a confused sophomore solo effort the following year entitled Vida Cruel (Cruel Life). Calamaro continued rocking away despite uninspiring reception of his work. At this time he also began producing for other Argentine rock bands such as the curiously named Los Enanitos Verdes (the green dwarves). In 1989, he found a tune that fans could finally identify with again when he joined forces with Gringui Herrera and Ariel Rot to record Nadie Sale Vivo de Aquí vivo (No One's Getting Out of Here Alive). Critics liked the album, unfortunately an economic melt-down in Argentina at the time of the album's release left fans with little money to purchase popular music.
Calamaro decided to move to Spain with Ariel Rot, a well advised decision that would mark another turning point in his career. The two Argentinean musicians teamed with Julián Infante to form the legendary rock band Los Rodriguez. The band helped define 90s rock music in Spain with widely celebrated albums such as Sin Documentos (1993) and Palabras Más, Palabras Menos (1995). Despite the success the band dissolved by the late 1990s. Calamaro was now a seasoned professional rock star with a solid catalogue. It seemed the time was right to take a second crack as a solo artist. Many observers soon considered his 1997 solo album Alta Suciedad one of the most important rock albums in Spain, an album that featured now classic tunes such as Flaca and Loco. Two years later, he released the double album Honestidad Brutal (Brutal Honesty), a bare-all-emotions piece that lives up to its name, largely inspired by a breakup with his girlfriend.
If we can describe his career in terms of decades, Calamaro seemed to search for his voice throughout the 80s and then find an engaging style with diverse influences that spoke to fans in the 90s. In the 2000s, we saw a new personal Andrés Calamaro emerge as the dust quietly settled from the wild success of the previous decade. His 5 disc, 103 song album entitled El Salmon, released in 2001, appears to address his most loyal fans, offering these an unedited view into the varied genius of the artist's mind that made little attempt to consider mass fan appeal. The song writer surprised fans several years later with a collection of cover songs called El Cantante, which explores deeper the flamenco, tango, salsa and folk influences that helped inspire his style.
After selling more than 1.3 million albums over his 3 decade plus career, Andrés Calamaro continues exploring and experimenting with music. His 19th album La Lengua Popular (2007) won a Latin Grammy. Staying true to his voice, Calamaro has found success and uncompromising personal expression.