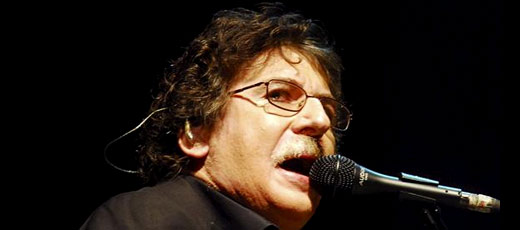 Charly Garcia is an Argentine singer, with poetic lyrics and eccentric personality traits, is considered one of the key figures of Argentine music.
Charly Garcia (born 1951) is an Argentine singer, songwriter and multiple instrument player. Unique musical talent, poetic lyrics and eccentric personality traits all characterize his four- decade-long music career which has made him a fundamental figure in modern Argentine music. He has been a part of several curiously named and successful groups such as Sui Generis and Serú Girán, along with his early lesser known band La Maquina de hacer Pajaros (The Bird Making Machine). Garcia produced much of his most celebrated works however as a solo artist, including his chart topping 1983 album Clics Modernos. Critical and public reaction to his work has experienced highs, lows and a steady mixed bag of reviews as he reunites old groups starts new ones and constantly reinvents his musical expression. His public stunts have also kept him in the news and raised more than a few eyebrows.
Charly Garcia showed musical promise at the surprisingly early age of 4, prompting his mother to place her gifted boy in the Thibaud Piazzini conservatory. He received formal music training and by 12 he received a diploma granting him the official title of classical music performer. As an early teen, Garcia shifted his musical influences from classical to rock music, finding inspiration in groups like The Beatles and The Rolling Stones. In 1972, he made his album performance debut on Vida, together with his band Sui Generis. Sui Generis went on to make several more folk-rock records, popular with teenage fans, until the band broke up in 1975. He later formed Serú Girán, a band that helped define 70s Argentine rock music and at times used bold lyrics to challenge the Argentina's military regime. His solo career began in 1982 when he created the soundtrack for the film Pubis Angelical and recorded Yendo de la Cama al Living. Here, Garcia plays most of the instruments for recordings, but also invites other important artists to perform such as Luis Alberto Spinetta and Pedro Aznar. Lyrics make ironic comments on the Falkland Islands war happening at the time with songs like No bombardean Buenos Aires (They're not bombing Buenos Aires).
The next year, the Argentine singer recorded a follow up album with a new pop-rock structure called Clics Modernos. The style generated great sales and a large audience identified with the pop melodies and synthesized sounds so present in early 80s pop music. Many long-time fans of the artist however felt disappointed by the sudden change in tune. Later that year, he dropped his pants in front of a stunned audience while on stage during a concert, an act that earned him headlines in the press. He continued making hit songs and participating in successful stage performances throughout the 80s, also making a small appearance as a nurse in the film Lo Que Vendrá (What's to come) for which he created the sound track.
The excesses of a rock and roll life style began to catch up with the talented artist in 1991 when he was hospitalized due to a heavy drug overdose. In a concert held in the end of that year, he arrived on stage in an ambulance, likely alluding to his hospitalization. His group was named los enfermeros (the nurses). By the mid 90s, possibly as a response to the pressures of the profit-fueled music industry, Garcia referred to a new attitude and music with the expression "say no more", also the title of his 1996 album. In the year 2000, Charly inexplicably leaped from the 9th floor of a hotel and into a swimming pool. He also reunited Sui Generis for a Boca Juniors stadium concert. Since then, he has continued making albums and touring.
With his talent, uncompromising self expression, rebellious attitude and legions of adoring fans, Charly Garcia captures the spirit of a true rock star. Despite being relatively unknown in much of the world, his music and image are instantly recognizable in Argentina where generations of rock fans fervently celebrate him.