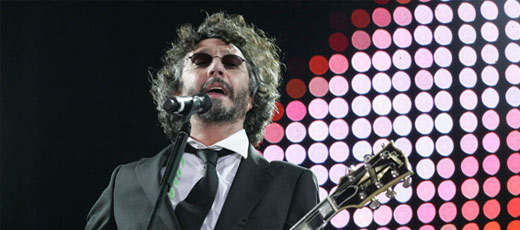 Fito Paez is a popular Argentine singer-songwriter and keyboardist. He has produced a steady string of chart-topping songs over his more than 30 year career
Fito Paez (born 1963) is a popular Argentine rock singer-songwriter and keyboardist. He has produced a steady string of chart-topping songs over his more than 30 year career. His career is marked by consistently positive critical and public reception of his music and enormous commercial success. He has won several Latin Grammies and his Amor Despues Del Amor (Love after love) is one of the highest selling albums in the history of Argentine Rock music with more than half a million copies sold. His musical success has allowed him to perform in venues around the world and he has the distinction of being one of the first foreign musicians allowed to perform in Cuba's Plaza de la Revolución (afterward he met Fidel Castro at the leader's residence). Today, Fito Paez continues to make albums and collaborate with other celebrated artists such as Joaquin Sabina and Ariel Rot.
Fito Paez showed great musical promise at a young age, forming his first band, called Staff, at just 13 years old. Shortly afterward, he began playing the local pub circuit as a solo act, and then he went on to tour performing with different bands. In 1982, a 19 year old Paez had the opportunity to meet the already-Argentine-rock-giant Charly Garcia, who was on the brink creating Clics Modernos (1983), still hailed as one of Argentina's most beloved pop-rock albums. The young Paez collaborated on the album and performed with Charly Garcia's band, replacing Andres Calamaro on keyboards. Calamaro joined Los Abuelos de la Nada, and would later go on to become another one of Argentina's greatest rock legends.
Fito Paez released his first album, entitled Del '63 (alluding the singer's birth date), in 1984. The following year, he released a second solo album entitled Giros. The work caught the attention of the famous Argentine rock musician Luis Alberto Spinetta. The two artists worked together on Paez's next album la la la (1986), and then toured together ending up in Santiago de Chile. Later that year, Paez's grandmother and aunt were the victims of a senseless and violent crime, brutally murdered by a former classmate of Fito Paez. The event deeply affected the singer, and his work took a dark turn with his emotionally charged Ciudad de Pobres Corazones, an album dedicated to the memory of his aunt and grandmother. His 1990 album Tercer Mundo (third world) treats the challenging reality of life in communities with the world's most difficult economic and political conditions.
A new relationship with actress Cecilia Roth (sister of singer Ariel Rot) seems to have dramatically changed Paez's tune again, this time finding a massive audience that identified with love-inspired lyrics and sounds. El Amor Despues del Amor (Love After Love) is an intimate celebration of the rediscovery of romantic passion. Fans packed concert venues, selling out shows for 40,000 people, to watch a sentimental Paez perform songs inspired by Roth. Since this successful period, he has made more albums that have received critical praise, most notably for: Enemigos Intimos (1998, intimate enemies), a joint effort with Spanish singer-poet-songwriter Joaquin Sabina, Naturaleza Sangre (2003, blood nature), an album featuring old friend Charly Garcia, and the  Latin Grammy winning El Mundo Cabe en una Canción (2007, The World Fits in a Song). He also directed the 2002 film Vidas Privadas, starring Gael Garcia Bernal.
Listening to the music of Fito Paez is a must for anyone interested in experiencing the vibrant traditions of Argentine rock. His catalogue is a wonderful exploration of human emotion which boldly faces difficult periods of grief and anger, but which also optimistically embraces triumphant rediscoveries of love.