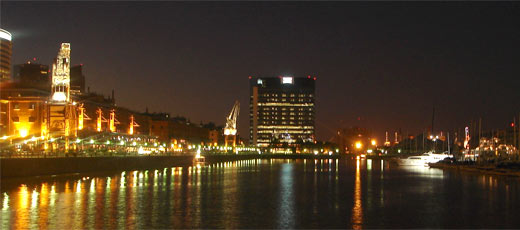 Buenos Aires. Buenos Aires is the capital of Argentina, a city with a rich history and vibrant present, a place where there is always plenty to do and see.
Buenos Aires is the capital of Argentina, a city with a rich history and vibrant present, a place where there is always plenty to do and see. Here you will find couples tangoing on cobble stone streets lost in intimate grace, European influenced architecture on wide avenues, and a rainbow of colors in the port neighborhood of La Boca, home to the world famous Boca Juniors soccer team. Besides Boca Juniors, Buenos Aires has 7 premier division teams. Soccer fanatics insist that watching a live soccer match is obligatory for visitors, not only to see the players playing the game, but to experience the passion of fans tireless chanting, cheering and singing throughout the game regardless of their team's on pitch performances or scoreboard results.
Buenos Aires is divided into 47 neighborhoods. Many of these have a unique charm that attracts tourists and locals alike, anxious to embrace the charming atmosphere of the Paris of South America. If you get the chance to go, you won't want to miss the San Telmo area in Buenos Aires' old town. Its bohemian streets are always bustling with activity; antique lovers and book worms weave about shops and boutiques, musicians and artists inspire with the skill and beauty of their expression and venders sell their wares at the Plaza Dorrego Sunday market.
Plaza de Mayo offers visitors the chance to see the site of the 1810 May Revolution, an event that marked a historic turning point in Argentine politics and soon led to the country's independence from Spain in 1816. The large city square has been a center for important political events ever since. The Casa Rosada overlooks the square, with its balcony made famous by Eva Peron's memorable speeches made from here and Madonna's musical portrayal of these in the film Evita. Countless other must-see Buenos Aires monuments surround the Plaza de Mayo: the May pyramid, city hall and the Metropolitan Cathedral of Buenos Aires to name a few. From here, you can also check out "La City", the financial center of Buenos Aires.
The city is also home to a thriving arts tradition and offers endless opportunities to watch theater performances, read books, view paintings and listen to a variety of live music. Its many theatres include the internationally acclaimed Teatro Colón which offers guided tours. If you come in April, you'll have the special chance to experience The Buenos Aires International Book fair. Buenos Aires Museums leave their doors open all night long one night every November on la noche de museos (night of the museums). Places worth seeing any time of year are the Museum of Fine Arts and El Ateneo books store.
With a warm climate most of the year (July is the coolest month), you'll have plenty of time to spend outdoors in the city's many green areas no matter what season you come in. The Jardín Botánico Carlos Thays features 6,000 different plant species over 17 acres of garden. One of Buenos Aires' most visited attractions is the Recoleta Cemetery. Here you can see the tombs of some of the area's historical figures such as several Nobel Prize winners. Eva Peron's burial site always draws a crowd. The Reserva Ecológica Constanera Sur is a great place for birding, picnicking, relaxing and soaking in Argentine nature among lakes and lush foliage. The quiet Delta del Tigre runs not far from the big city commotion, where boat tours guide visitors up the waters of the delta. The Palermo Japanese Garden is also just a 15 minute bus ride from downtown, where babbling brooks, peaceful waterfalls and a Japanese tea house all await tourists anxious to immerse themselves in refreshing natural landscapes.
The city on the Rio Plata has produced world famous traditions synonymous with Argentina such as the tango and fan hysteria surrounding the Boca Juniors, River Plate soccer rivalry. Check out one of the city's many milongas,or tango clubs, where traditional etiquette reminds us of the dance's long history. Men and women still sit opposite each other, dance invitations are offered with nods of the head and exhibitionist dancing is strictly forbidden. Different types of behavior codes rule at Boca Junior, River Plate derby matches, where incredibly passionate fans wave banners and shout their loudest cheers of support to express loyalty to their favorite teams. Many visitors plan their visits to Buenos Aires to coincide with the world famous match up. Tickets are hard to come by, but any soccer match played by these two teams or one of the other city's teams is a memorable experience.
Buenos Aires is a city of contrasts, offering visitors the unique opportunity to experience the activity of a thriving cosmopolitan city and the relaxing atmosphere of wide gardens, the advances of modern life and the legacy of beloved traditions. The city that embraces the arts and its vibrant neighborhoods is definitely worth visiting.