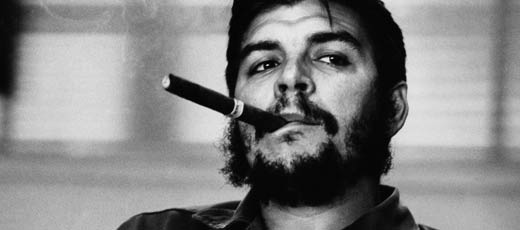 A world-famous Argentine whose face has become the symbol of revolution: Learn about Che Guevara and the relationship between Che Guevara and Fidel Castro
Che Guevara is an icon of the 20th Century, both his name and his face are recognized all over the world. Born in Rosario, Argentina in 1928 as Ernesto Guevara, he is without doubt one of the most famous Argentine people ever.
Che Guevara's life history makes for fascinating reading. Growing up in a fairly wealthy family of Irish descent, Che showed his talents at an early age excelling both as an athlete and in his studies. Throughout his youth he was also exposed to a wide variety of political perspectives as his parents, who were staunch liberals, would often welcome exiles from the Spanish Civil War and the poor into their home.
In 1948 Che Guevara went to study medicine at the University of Buenos Aires. During his studies his curiosity and ambition to travel got the best of him and in 1951 he decided to take a year off of school to travel. He headed off on an epic motorcycle expedition across South America with his good friend Alberto Granado.
This experience would change the way Che Guevara viewed the world. Throughout this time he witnessed first hand the poverty and the injustice that prevailed across Latin America. After receiving his medical degree in 1953, Dr. Ernesto Che Guevara felt compelled to go into politics in order to help those in need. It was at this point that he became known as "Che Guevara the Revolutionary", a name that many people still use today.
Initially Che Guevara travelled throughout Latin America offering his medical expertise where it was most needed. It was during this period that he was introduced to Fidel Castro, who was planning to overthrow Fulgencio Batista's dictatorship in Cuba.
Che Guevarra joined Fidel's mission as a combat medic but was soon converted into an active fighter. Throughout the Cuban Revolution, sparked in 1956, Che Guevara and Fidel Castro perfected their Guerrilla Warfare tactics, successfully hiding in the high mountains and striking weak points of Batista's army. Over three years, they won over the hearts and minds of the Cuban people and were victorious over Batista's regime.
After the war, Che Guevara continued at Fidel Casto's side and helped to reform Cuban society. He also wrote books containing his philosophy and accounts of his experiences as a revolutionary.
Che Guevara represented Cuba internationally as a diplomat, traveling all over the world to provide help and advice to those wanting to overthrow "imperial powers". He was captured and executed in Bolivia in October 1967 by forces supported by the United States while trying to inspire a revolution similar to that in Cuba.
A huge legacy followed after Che Guevara's death. Today he is often held as a symbol of rebellion in popular culture. There have also been a number of films documenting his life, including The Motorcycle Diaries about his travels around South America and more recently Che, a two part epic starring Benicio del Toro. However, the Che Guevara movies along with the popularity of his legacy, whether in books or on iconic posters, is a sensitive topic for many.
In spite of fighting for what some believed was good, he was also viewed by some as a tyrannical rebel who used excessive violence in his campaigns. Whatever your views, Che Guevara was undoubtedly one of the most influential people of the past century.