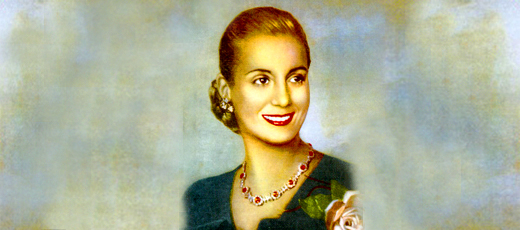 Eva Peron or Evita, was an argentine actress and politics, and served as the First Lady of Argentina from 1946 until her death in 1952.
Eva Peron (1919-1952), affectionately referred to as Evita, was the driving force behind her husband Juan Peron's popularity and rise to power in Argentina, and as the nation's first lady she had an unprecedented impact on the country. Her tireless charity efforts, which included distributing clothes, medicine and other living provisions, helped earn her the adoring approval of many Argentines, most notably those living in Argentina's least favorable living conditions. She was also instrumental in the success of many causes such as women's suffrage. From her humble origins and unlikely success as a radio, stage and film entertainer to her influential position and iconic position as hero of the people, Evita's short but active life, characterized by passion and ambition, continues to serve as an inspiration to those that remember her as the "Spiritual Leader of the Nation" (a title Argentine congress bestowed on her).
Evita grew up in the Argentine countryside town of Junin, with her single mother and four older siblings, in challenging economic conditions. Here, she also lived under the stigmatism of illegitimacy, as a wealthy biological father, already with a family before Evita's birth, remained out of her life. As an early teenager, she was less than impressed by the extensive rural landscape that surrounded her home, which seemed to only limit her restless spirit. She took an active interest in theater and film, performing in local plays with hopeful dreams of pursuing a successful acting career, perhaps seeing her dream as a promising exit from community scrutiny and an entrance into a new identity characterized by the fame and glamour her own movie star idols enjoyed. At around 15 years old, Evita left Junin and settled in Argentina's capital Buenos Aires. In her book The Reason for my Life, she likens herself to the birds, explaining her preference to be free by saying that she left her home town at an early age because she wanted to be on her own.
Shortly after Evita Peron started her new life in Buenos Aires, she earned small parts in several stage performances with different companies despite her lack of formal acting training or experience. Later, she began making small appearances in films and finally got steady work as an entertainer with an important radio station. By 1944, she had achieved great success in radio, becoming one of the highest paid radio personalities in Argentina. Her success is even more remarkable considering her arrival to Buenos Aires amidst great depression era overcrowding and limited opportunity. That same year at a charity event, she met Juan Peron, an up and coming politician. The meeting would change Evita's life and would soon change the course of Argentina's history.
The two immediately struck up a romantic relationship and soon they began to live together, an especially bold move considering 1940s strict notions of acceptable conduct and general disapproval of couples sharing a home before marriage. A scandal could have a damaging effect on Juan Peron's promising political future. Evita used her popular radio program to promote her new partner's social political policies that seemed to identify with the plight of working classes. The politician helped organize Argentine workers, promoting unions, and he soon achieved considerable power within the government. By 1945, a military fearful of Peron and working class members' growing power, imprisoned him. The imprisonment caused an uproar, and a massive demonstration held by supporters brought about his release just days later; an achievement seen as a defining victory for Juan Peron and his supporters. Evita's help in organizing the rally and her emotional speech to demonstrators from the balcony of the Casa Rosada were made famous by Madonna's portrayal of the historic events in the movie Evita. Little over a week after the release, the couple married, and the following year they successfully campaigned together for Juan Peron's presidency. Evita's public presence next to her husband while campaigning was something new for Argentines, as no other Argentine woman had ever done so.
Evita, First Lady of Argentina
As first lady, Evita created the Eva Peron foundation, an important charity organization. She also played a very visible role in politics, fighting for higher wages, more welfare benefits, women's' suffrage (enacted in 1947) and overseeing health programs designed to fight disease. These acts earned strong criticism from some, particularly from Argentina's military and elite classes. She however enjoyed great popularity and many of her supporters insisted she run for office in the following 1951 presidential election. By October of that year, 2 million people participated in a rally with crowds demanding that she announce her candidacy as her husband's presidential running mate. Unfortunately, her health had already begun to rapidly decline, and the next year she died of cancer at the age of 33. After her death, her husband's political career took a downward and the military ousted him from office in 1955.
Evita's extraordinary rise to power from rural poverty to young national leader includes classic elements of an entertaining and inspiring novel. Over 30 biographies of her life exist in Spanish alone. Musicals and movies celebrating her legacy have also been made. Millions of people still fervently adore the young woman whose tireless activism and skillful use of influence helped redefine women's roles in politics and the history of Argentina.