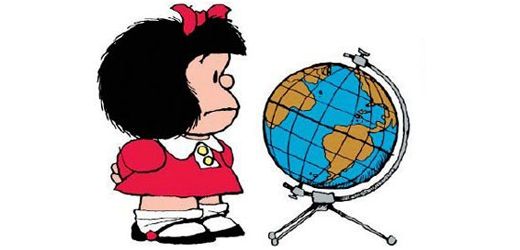 Mafalda. The success of this comic could be due to the fact that it features an Argentinean girl, her group of friends and their families.
As the journalistic saying goes "nothing is as old as yesterday´s paper," and normally this statement is true. However, there are exceptions which disprove the rule. There are features, images and stories in some daily newspapers which deserve to be conserved. These pearls of journalistic wisdom should be protected and stored up to prevent them from being forgotten about with the inevitable passing of time.  Artists who publish their cartoons in newspapers realize that their work will feature in one edition only to be gone in the next. Just like an article, an image can become outdated in no time at all and, except in a few cases, readers are only left with the vaguest memory of it which nevertheless puts a smile on their faces.
In the Spanish-speaking world one comic character has emerged whose musings and thoughts cause us to reflect on what is happening in the world around us and whose childlike innocence brings a smile to our faces. Her name is Mafalda and she is an argumentative, caring child from Argentina, whose curly hair is always tied with a bow and who is forever concerned about the state of the world. Her creator is Joaquín Lavado, known by his pen name "Quino", who created this character for an advertising campaign which did not take shape, leading to its publication in the daily newspaper in the form of a comic strip with four or five, always black and white, cartoons.
The success of this comic could be due to the fact that it features a girl, her group of friends and their families. Quino constantly used these children to paint a picture of the Argentina of his time (between 1964 and 1973): during this period it was a tumultuous country, with serious political and social problems and a succession of military dictatorships. The artist could not openly and explicitly criticize the regime´s social policies but instead used the personalities, actions, attitudes and likes of Mafalda and her friends as a means to do this. The characters also represent universally recognizable as well as purely Argentinian stereotypes which may explain why they and the comic series have remained popular.
Mafalda and CO
Mafalda
is a primary school student. She is worried about the state of the world and about the country´s political future. This reflected the concerns of the general population in the 60s. She is also a little girl who hates soup, is crazy about ice cream, adores the Beatles and all too often says things to her parents and asks them questions which leave them speechless (for example in one comic strip Mafalda approaches her model globe with a pen and piece of paper and writes the phrase "caution, reckless individuals at work on the Earth!" hanging it on the model). Mafalda´s father is not given a name, he is just referred to as father: he works in an insurance company and he has a Citroën 2CV, which was considered a luxury in those days. Her mother, called Rachel, is a housewife who gave up her piano studies to look after the family.
Felipe
is Mafalda's friend, he is a year older than her, but he is a dreamer, very shy, lazy and scatterbrained.   He has two very big upper incisors which protrude from his mouth giving him a very peculiar look.  He is always overwhelmed with school work and he loves episodes of the Lone Ranger.
Manolito
is the son of the owner of the Don Manolo Shop. He is a stereotype of a Galician immigrant in Argentina, he is very interested in making money (he represents conservative and capitalist ideals), he despises the Beatles and he is a touch simple-minded, but deep down he is a good person.  His hair is always short and cut in a crew-cut style and he has a much squarer head than the other characters.
Susanita
is very talkative, proud and gossipy. She is snobbish, racist and her aspirations are to be a mother, to have a rich husband and to gain a high social status. She is the complete opposite of Mafalda.
Miguelito
is one year younger than Mafalda, he always asks strange questions about the world and his hair is quite messy, like a plant ("like a lettuce" according to his friends). He is always arguing with his mother, he is an only child, and he is a big supporter of Mussolini, the hero of his grandfather, who was an Italian immigrant.
Guille
is Mafalda's younger brother, he idolizes the actress Brigitte Bardot and he loves soup, which constantly causes arguments between him and his sister. He makes errors when he speaks and his pronunciation is not always correct. At the beginning of the comic book series he uses a dummy. Curiously, he is the only person who we see growing up in the comics.
Libertad
is the last member of the group of friends. Significantly, she is much smaller than all of the other character, including Guille. She is the only member of the group who is more liberal than the main character and she openly criticizes the status quo. She is the daughter of a socialist worker and a French translator.
In 1973 this comic series ceased publication in Argentina, but following this it spread around the world and it became popular throughout Latin America and Europe, especially in Spain and Italy. In 1993, all the comics in print as well as some previously unpublished ones were assembled to create one volume entitled Todo Mafalda (ISBN 9788426419231).
Quino has continued publishing his drawings, with 22 volumes to his name so far, but he hasn´t written anymore comics featuring his most famous character. He has received numerous honors and awards, including the B'nai B'rith Human Rights Prize in 1998, an honorary professorship for comedy from the University of Alcalá de Henares (in 2000), France´s National Order of the Legion of Honor and a Prince of Asturias Award for Communications and Humanities, both in 2014.