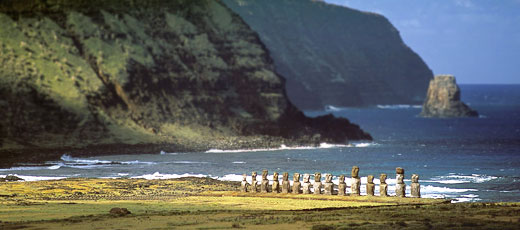 Easter Island. Known also as Rapa Nui, Easter Island got its name when an 18th Century Dutch explorer, landed on this Polynesian island on Easter Sunday.
Just 25 square miles in area and 1242 miles from the nearest population center, which happens to be in western Chile, the tiny, triangular-shaped Easter Island is one of the most remote places in the world. Despite its isolated location in the South Pacific Ocean, incredibly, this island is home to 5000 inhabitants. What makes this island unique is the mystery that surrounds this island and makes historians and tourists alike who wonder how the first settlers could have ever stumbled across such a distant and extremely small land mass. Equally mysterious are the other "inhabitants" of the island— the monumental, monolithic head-and-torso moai statues—who capture, in all their enigmatic glory, the attention of the island's visitors.
Rapa Nui
Known also as Rapa Nui, or Isla de la Pascua in Spanish, Easter Island got its name when early 18th Century Dutch explorer, Jacob Roggeveen, landed on this Polynesian island on Easter Sunday and therefore chose to commemorate his day of discovery by giving it the name of this holiday.
Despite the ever-growing influences of globalization, the Rapa Nui people continue to speak their own language, also called Rapa Nui, in addition to Spanish given that, although distant, the island is considered a "special territory" of Chile.
Although there remains uncertainty regarding the exact time when the first settlers arrived and the origin of their extensive journey, most historians agree that it was around 700 AD that an organized group of emigrants travelling in wooden canoes arrived from East Polynesia unbelievably battling past the Pacific Ocean's immense waves to safely arrive to the shores of their new home. Clearly gifted when it came to creating innovative architectural structures, the Rapa Nui made their mark with the raising of the giant moai around the island. For six hundred years from the 10th to 16th centuries, almost 900 moai statues were erected. These figures deified important deceased family members from the close-knit island community.
While the centuries that followed were certainly less peaceful for Easter Island's Polynesian descendants with the arrival of famines, civil war, slave raids, epidemics, colonialists and near deforestation; the Rapa Nui have resisted these multiple threats to their culture and still celebrate many of their long-held traditions today. By keeping alive their rare language, their polytheistic religion and their annual Tapati Rapa Nui festival, the island's native inhabitants demonstrate their pride of their unique past and strive to preserve their customs long into the future.
As for Easter Island's striking geographical landscape, visitors are treated to the sights of three colossal, extinct volcanoes that have been fused together and which give the island its distinctive triangular shape. The dramatic coastline of black lava rock and steep cliff faces contrasts with the beautiful, palm-lined white sand beach of Anakena. In fact, it is the island's coast which is particularly appealing to the adventurous tourist. Thanks to its beautifully clear waters and exceptionally powerful waves, the island has gained worldwide fame among scuba diving and surfing enthusiasts. For those energetic tourists who prefer land based activities, the island boasts a multitude of hiking, mountain bike and horse riding opportunities.
With its enthralling statues, spectacular landscapes and wide-ranging sporting activities, Easter Island is a hidden trove of archeological treasures and recreational options which makes the long journey there worth every minute.