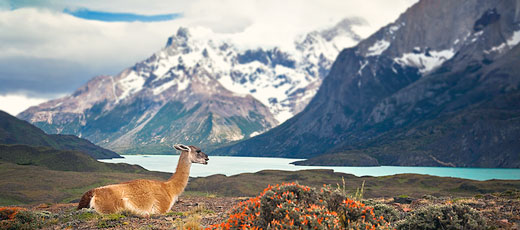 Torres del Paine. in 2013 the Torres del Paine National Park was named the fifth most beautiful place in the world by National Geographic.
A vast 1810 sq km national park filled with shimmering, turquoise lakes, extensive, forest-lined trails, glistening, blue-tinged glaciers and rugged, mountain peaks, the Torres del Paine is truly a marvel to behold. Located in Chile's geographically-striking, Patagonia region at the southernmost tip of South America, the national park depends on its soaring granite pillars (also named the Torres del Paine) and multiple, jagged horns to give it the dramatic appearance for which it is so highly-esteemed today. From trekking adventures to boating trips to horse riding expeditions, this Chilean, natural paradise will provide the active tourist with much more than just an adrenaline rush; visitors will be equally greeted by a breathtaking panorama at every turn.
Native to South America, the comical-looking guanaco, a member of the endearing camelid family which also includes the more well-known llama and alpaca species, is a firm animal favorite among visitors to the Torres del Paine National Park.
Although spoilt for choice when it comes to the park's various trekking trails, it is the 'W'— so-named owing to the curved nature of the three valley route — which remains the most popular circuit thanks to its relatively-short duration and spectacular views.
Providing the happy-snapping tourist with some extraordinary shots, it is Torres del Paine's colossal 'water features' which are central to the park's natural beauty. Beginning with the numerous freshwater lakes, their crystalline surfaces captivate visitors not only owing to their almost magical-looking appearance but also thanks to their ability to reflect the imposing mountains which surround them. Worthy of specific mention with regard to aesthetics is Lago Sarmiento which, thanks to its glacial origin and profusion of calcium carbonate, boasts an unusual white-rimmed, deep-blue color. From still lakes to raging waterfalls, Paine's Salto Grande astounds visitors for very different reasons; it is the sheer power and volume of blue-hued, water which cascades down the waterfall's steep, rocky ravines which makes it a postcard-worthy scene in this instance. Travelling west to the colder climes of Grey Glacier, the serrated texture of this 19 km-wide ice structure is equally arresting as it is comprised of a seemingly never-ending expanse of almost, identically-formed small iced peaks.
Certainly the not-to-be-missed part of a trip to Torres del Paine is partaking in one of the challenging, but undeniably rewarding, mountain hikes. Whereas the aforementioned, and aptly-named, 'W' consists of an estimated five-day long route taking trekkers to the greatly-admired Las Torres, Valle des Francés and Glaciar Grey along the way, the 'Circuit' invites the 'fighting fit' to spend eight to nine days enjoying not only the 'W' wonders but also the park's northern Paso John Garner which offers an unforgettable view of the sparkling-white Patagonian Icecap.
Having chosen the advisable option to trek in the company of an experienced guide, visitors can take full advantage of their flora and fauna knowledge at this point. From rapidly-moving pumas to ostrich-like rheas to pastel pink-colored flamingoes, the Torres del Paine National Park is abounding with wildlife and bird species. A UNESCO Biosphere Reserve System since 1979, the park is equally impressive when it comes to its copious, and carefully-protected, vegetation. Respectively producing bright red and yellow flowers, embothrium coccineum and calceolaria uniflora will certainly capture the attention of keen botanists.
A picture-perfect destination whose natural beauty is only heightened when seen first-hand, the Torres del Paine National Park was not named "the fifth most beautiful place in the world" by National Geographic in 2013 for nothing.