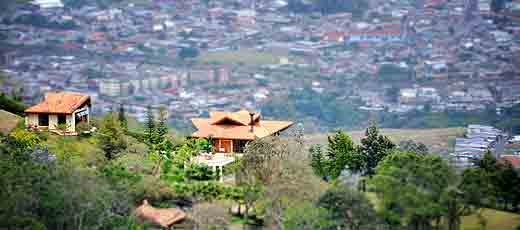 San José, the capital city of Costa Rica is an example of full democracy in an environment often contentious politically speaking.
Costa Rica, located in Central America between Nicaragua and Panama, is one of the few countries in the world that does not have national armed forces. Despite the lack of armed forces, the country enjoys one of the region's highest levels of security. With fewer than five million residents, Costa Rica also has the region's lowest birth and death rates.
A large plateau surrounded by volcanoes, which is known as the Valle Central (Central Valley), rises from the center of Costa Rica. This is where the country's capital is located.
65% of Costa Rica's population is of European origin, a percentage that is much higher than that of other Central American countries. Given various historical factors, the indigenous community in Costa Rica is smaller than it is in other Central American countries.
San José's status as a capital has fluctuated throughout the course of Costa Rica's history. The city was founded around the year 1738 near Cartago, taking its name from the chapel erected in honor of Saint Joseph of Nazareth. San José did not obtain the official status of being a city until 1813 after it was proposed by the Cádiz Cortes. When Fernando VII of Spain returned to power in 1814 however, all motions approved by the Cádiz Cortes was annulled and San José was no longer considered a city. San José would later regain city status with the return of Spain's constitutional government in 1820.
San José has been the capital of Costa Rica over three separate historical periods: a few months in 1822, from 1823 to 1834, and finally from 1838 to present. The city has endured a series of confrontations and coup d'états that have helped shape the current political climate in this Central American country.
An 1815 census of San José records the population at 11,500. After gaining independence from Spain, San José had more residents than Cartago, largely due to an increase in coffee cultivation which occurred from 1820 to 1830.
San José's grid-pattern urban structure was established in the 19th century as a reflection of Spain's urban model. Several churches were also built such as La Merced and Our Lady of Carmen. In 1843, the University of Saint Thomas was established, which would serve as a precursor to the University of Costa Rica.
At this point San José had become the economic and cultural center of the country, a time when new theaters, banks, government buildings and parks helped begin shaping the city's urban landscape. In 1884, an electric station started running in the district of Aranjuez and illuminated 25 lamps, making San José the world's third most electrically illuminated city after New York and Paris.
San José sits at about 1,150 meters above sea level. It is also located close to the historical cities of Heredia and Cartago. The greater metropolitan area, made up of San José, Alajuela, Cartago, and Heredia, is comprised of 60% of Costa Rica's total population. The city's Architecture is clearly influenced by Europe and more specifically by Spain, Italy, Germany, England, France, and Belgium, particularly in the old districts of Aranjuez, Amón and Otoya.
San Jose is served by two airports: Juan Santamaría International Airport, 20 Km west of the capital, and Tobías Bolaños Palma Airport, which is 11 Km away and is a center for domestic and charter flights. Interestingly, San José's taxis are red, and if you see an orange one than you know that it is a taxi specifically for the international airport.
Visitors to San José are encouraged to see attractions such as the National Theater, the National Museum, the Gold Museum and the Jade Museum, countless plazas, parks and gardens, places that help make this a highly appealing city to visit. Notable parks include the Parque de la Paz (Peace Park), Parque Okayama (in Japanese style), La Sabana Metropolitan Park, which are surrounded by museums.
San José's markets, such as the Mercado Central or the Mercado Artesanías, give visitors a chance to take a look at traditional Costa Rican products.
San José is a place where elements can be seen from all over Costa Rica, a country where the harmony between nature and man is a model in the Americas.