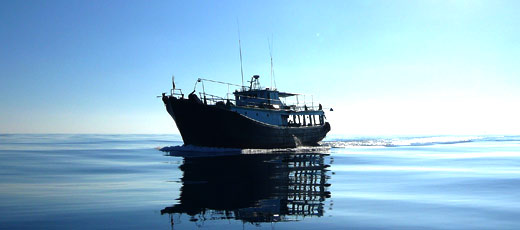 Thousands of tourists head to Mexico every year to enjoy some of the world's best sports fishing, it homes the world-class locations for deep sea fishing.
Thousands of tourists head to Mexico every year to enjoy some of the world's best sports fishing. Fishing in Mexico is an incredible adventure; with over 6,000 miles of coastline (10,000 km), Mexico is home to some world-class locations for fresh and deep sea fishing. Commonly caught fish species in Mexico include sailfish, blue marlin, striped marlin, white marlin, dorado (also known as mahi-mahi or dolphin fish), roosterfish, yellowfin tuna, red snapper, grouper, bonefish, permit fish, tarpon, snook, black bass, largemouth bass and wahoo fish, make Mexico an appealing destination for sports fishermen around the world.
Coastal destinations in Mexico offer tourists and fishermen a wide range of fishing operators who offer deep sea fishing tours all year round. Options include chartering your own fishing boat or booking a spot on a public fishing boat.
If you plan to go fishing in Mexico, keep in mind that fishing licenses and boating permits are required by law. Mexico requires a fishing permit for each person on the boat and a license for the boat itself. Once in Mexico, you can acquire a Mexican fishing license or boating permit from the National Commission of Aquaculture and Fishing (CONAPESCA) offices and tackle shops. Mexican fishing licenses and boat permits can also be solicited by mail, through some travel clubs and sometimes in local offices, such as in San Diego, California. It is highly recommended that you purchase your fishing license for Mexico prior to your trip. Shore fishing in Mexico does not currently require a license, although it is highly recommended just in case. Contact CONASPESCA for updated rules and regulations, as they are subject to change.
Bass fishing in Mexican lakes is a popular option. The mild Mexican climate is a perfect habitat for trophy bass fish, which grow up to two pounds a year and often exceed 10 pounds. Bass fishing in Mexico is a unique and rewarding vacation. Lake Baccarac, located east of Los Mochis in western Mexico, is a huge 25 mile long, 5 mile wide man-made reservoir that is a famous destination for bass fishermen. Lake Baccarac is loaded with huge bass fish and boasts amazing views of the Sierra Madres, a Mexican bass fishing trip that will satisfy even the most avid sports fisherman.
Mexico is also well known for its deep fishing which is revered by experienced fishermen worldwide. The warm waters of the Gulf of Mexico, the Caribbean Sea, the Atlantic Ocean, the Pacific Ocean, and the Sea of Cortez (Gulf of California) offer an impressive selection of deep sea fishing experiences in Mexico.
Deep sea fishing in Mexico is a popular tourist activity, and many hotel resorts will organize fishing trips through tour operators. Deep sea fishing trips are particularly popular on the Yucatan Peninsula, a major tourist destination for visitors to Cancun, Cozumel and Tulum. Excursions in the Gulf of Mexico are popular for bass fishing, but other fish species commonly caught on deep sea fishing trips include red snapper and sword fish.
Deep sea fishing destinations are also prominent on the west coast of Mexico. Cabo San Lucas is located on the Baja Peninsula and is a great location for deep sea fishing enthusiasts hoping to catch marlin.
Top Fishing Destinations in Mexico
Los Cabos - Baja California, Mexico
Los Cabos (Cabo San Lucas, San José del Cabo and La Paz) is Mexico's most popular fishing destination. Several world records for catch sizes are held in this region. The most popular fish caught here are marlin and sailfish, depending on the season.
Mazatlan, Mexico
Mazatlan is not only a popular coastal resort but it is also known as the "Billfish Capital of the World". Depending on the season fishermen can catch tuna, sea bass, dorado, grouper, sailfish, and striped marlin. Nearby lakes are stocked with native and Florida black bass.
Puerto Vallarta, Mexico
Off the coast of Puerto Vallarta, deep sea fishing expeditions can catch sailfish, marlin, red snapper, bonito shark and tuna.
Costalegre, Mexico
Just south of Costalegre are the fishing villages of Barra de Navidad and Isla Navidad. Deep sea fishing excursions can catch both blue and black marlin, sailfish, dorado, roosterfish and giant tuna. Shore fishing and fly fishing can also be fruitful.
Zihuatanejo-Ixtapa, Mexico
Zihuatanejo is a fishing village located between Manzanillo and Acapulco. This Mexican village is home to some important fishing tournaments. Zihuatanejo has been long popular with experienced fishermen who travel to the village to catch marlin, sailfish, yellow fin tuna, roosterfish, dorado, snook and wahoo.
Acapulco
Acapulco is another popular coastal area with great deep see fishing operators. Here, fishermen can catch striped marlin, pompano, bonito, red snapper, shark, sailfish and tuna.
Cancun / Cozumel / Playa del Carmen
Cancun is the most visited city in Mexico and nearby Cozumel and Playa del Carmen are great sports fishing destinations for deep sea fishing, fly fishing and bottom fishing. Common catches include blue and white marlin, sailfish, wahoo, mahi mahi, amberjack and barracuda.