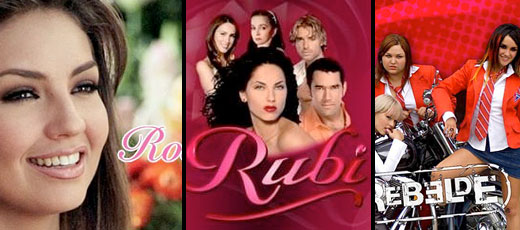 Mexican Telenovelas. Since their inception in the 1950s, Mexican Soap Operas have gained popularity all over Latin America, not least in Mexico.
Telenovelas, Mexican Soap Operas, are short TV serials which, since their inception in the 1950s, have gained popularity all over Latin America, not least in Mexico. They are produced primarily in Spanish and Portuguese speaking countries and are prime time viewing for 5 or 6 nights every week. Generally airing for around six months, and rarely for more than a year, telenovelas typically combine drama, romance and socio-cultural themes in their gripping storylines.
Unlike British, American or Australian soap operas, which are usually written to continue indefinitely, the entire plot of a telenovela will be known from the outset. Traditionally these television programmes portrayed almost identical narratives, with a couple falling in love within the first few minutes and then spending the remainder of the series fighting all the obstacles put in their way to end up together once again. More recently, however, scriptwriters have become more experimental and begun to introduce far more variety, including controversial and previously taboo themes such as divorce, urban violence, racism and homosexuality.
Today, the best telenovelas are thought to come from Brazil, Mexico, Colombia, Argentina, Chile and Venezuela. Indeed, the series Ugly Betty, which has achieved worldwide fame and has since been produced in over 20 other countries, is an adaptation of the Colombian telenovela Yo Soy Betty, La Fea. The very first telenovela was a Mexican work called Ángeles de la Calle, ('Angels of the Street') which was released in 1951. The modern format for the shows was introduced a little later, in 1957, when Senda Prohibida ('Forbidden Path') aired, and by 1979, telenovelas had entered the international arena, with Los Ricos También Lloran ('The Rich Cry Too') being exported to Russia, China and the USA, amongst other countries.
Mexican soap operas are typically very traditional in narrative, and involve a love story, a villain and almost always ending with a wedding. Even taking into consideration the now much broader range of topics, they often fall into one of the following categories:
Working class melodrama, featuring a poor woman who falls in love with a rich man.
Historical romance.
Teen drama, exploring the lives of high school teenagers and the issues they may face.
Adaptations from other countries.
Every night, millions of viewers find themselves avidly following the dramatic, fast-paced and often convoluted storylines that telenovelas offer and, as such, it is no surprise that these productions are on a par with big Hollywood projects, in terms of budget and appreciation. Indeed, many Latin American companies invest in telenovelas as one of the continent's prime exports – selling broadcasting and adaptation rights to others around the world for huge profits. The popularity of telenovelas in Russia, France, Greece, Italy, the Philippines, Israel, Malaysia, Singapore, Indonesia, China, and Japan is testament that their success spreads far beyond the Spanish-speaking world.