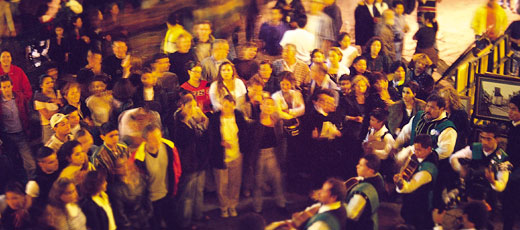 Nightlife in Mexico. Wherever you are in Mexico, you will always find something to do at night.
Mexico has a bustling nightlife all year round. Wherever you are in Mexico, you will always find something to do at night.
Party areas in Mexico are usually concentrated in cities, especially Mexico City. Wild parties, notably during spring break, are also held near the beach, such as in Acapulco and Cancun. If you're not into partying, you can also find bars with Mexican musicians or floor shows.
Mexico City is a good place to begin. Mexico's capital offers an assortment of nightlife that will surely fit your taste. Polanco offers a haven for music enthusiasts, with different genres of music ranging from Cuba to alternative rock. Condesa, meanwhile, has a sizzling club scene.
Guadalajara's nightlife is more sophisticated. Here you can attend plays and dance and mariachi shows.
Acapulco's dance clubs are also extremely popular. Some clubs have windows as walls, so that you can enjoy the beach while partying the night away.
Cancun also offers renowned hotspots, such as The City, which is the largest night club in South America. Some of the clubs in Cancun can be found in malls and shopping centers. There are also nightlife tours in Cancun, which allow you to hop from one club to the next.
Cabo San Lucas offers more laid-back parties at restaurants and casual bars. A lounge scene is gradually attracting more and more visitors to the area.
Puerto Vallarta provides a variety of nightlife activities. For a cultural show, you can find mariachi and traditional Mexican bars. For a slow night, you can go to blues, jazz or salsa clubs. More recently, clubs with DJs are populating the scene.
Most bars in Mexico are open from Tuesday to Sunday. The nightlife in Mexico typically starts at around 10 or 11 pm, and can end anywhere from 2 to 4 am, and occasionally later. Most bars do not require a cover charge; however, some clubs, especially in resort areas, require you to pay an entrance fee. The entrance fee, which is usually around $40, is typically inclusive of a drink-all-you-can charge. Take note that the legal drinking age in Mexico is 18.