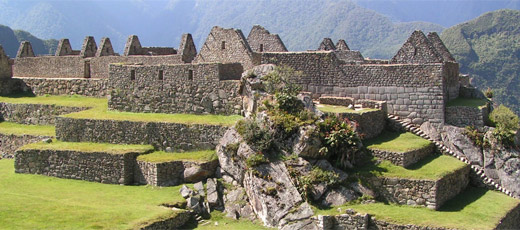 On this page you can read the histoy of the Inca Trail to Machu Picchu. - Qhapaq Ñan – which is also called the Great Inca Road. You can get further information on Machu Picchu as well as the Inca Empire.
The Andes region, since it is a mountain range that stretches across the entire South American continent, represents a variety of landscapes where deserts, forests and highlands combine to form a region of breathtaking beauty. In the pre-Columbian era, this area was home to one of the largest extending empires in the Americas: the Inca Empire.
The Incas were one of the most powerful and organized populations that the Spanish Conquistadors encountered when they arrived to America. The empire was organized in various cities stretching from Chile and Argentina to Ecuador and Columbia. The capital of the Inca Empire was in Cuzco, Peru.
In order to maintain the cohesion of the empire, the Incas created a network of trails to link the cities together. It has been hypothesized that one of these routes reached all the way to the Atlantic coast in Sao Paulo, Brazil.
Qhapaq Ñan (Great Inca Road) is the main trail that ran from the north to the south of the empire, covering more than 37,282 mi. (60,000 km.) and comparable in length to the famous Silk Route.
Among this interurban communication network is the famous "Inca Trail" that unites Cuzco with the Lost City of Machu Picchu. Machu Picchu is a palace sanctuary city that was probably home to the first Inca emperor, Pachacutec, who ruled from 1438 to 1470. The city, incorporated into a landscape with amazing views, is an engineering masterpiece that provides incredible architectural solutions to earthquakes.
To only way to access Machu Picchu is via the Inca Trail. There is no highway to link the archeological ruins to civilization. The Inca Trail has become an attractive tourist route with hikers, not only for the scenery along the route but for the beautiful city that awaits them at the end.
If you want to go to Machu Picchu from Cuzco, the trip is 81 mi. (130 km.) For this reason, most people travel in train to Aguas Calientes from Cuzco and then take the Hiram Bingham highway to the sanctuary. Another way to arrive to Machu Picchu is via helicopter, a trip that takes approximately 30 minutes. The lack of roads to the Lost City is actually beneficial to conservation efforts as it helps control the amount of visitors to the site.
Since 2004 only 500 tourists are allowed to visit Machu Picchu per day. If you plan to visit the ruins it is necessary to contact an authorized agency. It is also recommended that you spend a couple of days in Cuzco beforehand to get acclimatized to the high altitude. Keep in mind the climate and ecosystem and take a rain coat and some good hiking boots along with you.
Enjoy the Inca Trail to Machu Picchu!