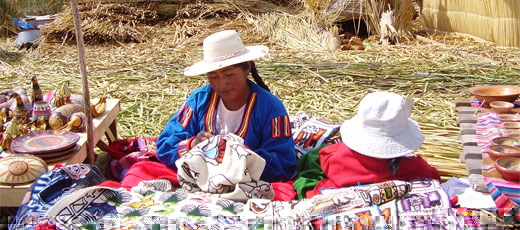 Peruvian population is made up of a multi-ethnic community which developed throughout five centuries of the region's history. Learn more about it.
Peru is the fifth most populated country in South America, with about 29 million people. It has a population density of 22 inhabitants per squared kilometer and its annual growth rate is 1.6%. 55% of the population lives on the coast. The coast is also where most of Peru's big cities are located, which include Lima (the nation's capital), Trujillo, Chiclayo and Ica. About 32% of the population resides in mountain regions in cities like Cusco (former capital of the Inca Empire), Cajamarca and Arequipa. Finally, about 13% of Peru's population lives in the rain forest, in cities such as Iquitos.
Peruvian society is made up of a multi-ethnic community which developed throughout five centuries of the region's history. Today, a small majority of the people are mestizo. In 1520, the indigenous population, which had lived in Peru for thousands of years, numbered 9 million people. By 1620, that figure had been drastically reduced to around 600,000, mainly as a result of diseases transmitted by the Spanish.
A large number of Spaniards and Africans arrived in Peru during the colonial period. The nation's independence produced a large wave of immigration from Europe. In the 1850s, large numbers of people from China immigrated to Peru. The Chinese community, along with the Arab and Japanese communities, is highly influential in Peruvian society.
Today, Peru is home to a rich diversity of ethnic minorities: mestizo, Amerindian (mostly Quechua), white, mulatto, black and Asian. Peru is one of the countries that best defines mestizaje (the blending of races).
The language of Peru is predominantly Spanish. There is however a significant percentage of Quechua speakers (about 13%), a language mostly spoken in the south.
Although there are trends of migration within the country, about 10% of Peru's population has emigrated and currently lives outside of the country's borders, mostly due to the country's precarious economic situation. Of the Peruvians that emigrate, most (67%) head to America, while 28% go to Europe and 4% go to Asia.
Internationally famous Peruvians of particular note include authors such as Ricardo Palma, who wrote the well known Peruvian Traditions in the 19th century, the poet Cesar Vallejo, who is so fundamental to 20th century literature, Nobel Prize for Literature winner Mario Vargas Llosa and Alfredo Bryce Echenique. The designer Norka Peralta is also an international figure from Peru, as is two time world surf champion Sofia Mulanovich. In the world of runways Maria Julia Mantilla (Miss World 2004) is well known and Claudio Pizarro is an international sports star.
Related articles