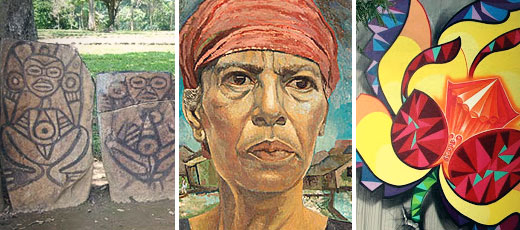 Puerto Rican Art. Art in Puerto Rico reflects many influences due to the country's ethnically diverse background with Spanish, African and American impacts.
Puerto Rican art reflects many influences thanks to the country's ethnically diverse background, with Spanish, African and American impacts. The popular styles of Puerto Rican art have undergone many changes, following the styles, cultural influences and dominant political forces at work of the time.
Puerto Rican art has a strong folk art tradition; Santos evolved from Spanish colonial influence of religious works, and Santeros, Puerto Rican artists of this style have passed down the skill from generation to generation. Santos, meaning Saints, are crafted from wood, clay or stone, and this traditional Puerto Rican art style. Caretas, the masks worn during carnivals, are another type of Puerto Rican art that has been around for generations. Rosa Elena Egipciaco is a Puerto Rican artist often referred to as the 'Queen of Mundillo', for her skills of Mundillo lace making, an old Puerto Rican art form.
Visual art amongst Puerto Rican artists is alive and well. José Campeche is accredited as the first Puerto Rican visual artist, and Francisco Oller is considered the only Latin American artist to have played a role in the development of impressionism. More recently, Puerto Rican artist Papo Colo has had artwork acquired by the Library of Congress for its permanent collection. Puerto Rican museums are the best place to see Puerto Rican art at its best; Museo de Arte de Ponce is a great place to see a range of Puerto Rican art.
Related articles