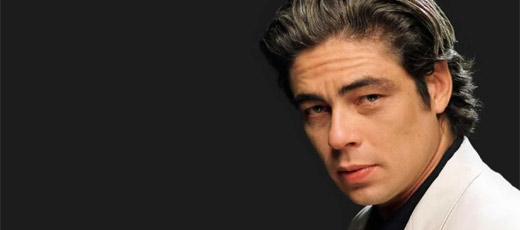 Benicio del Toro biography. Information about the famous Hispanic actor Benicio del Toro.
When Puerto Rican born and raised Benicio Monserrate Rafael del Toro Sánchez first announced to his father and siblings that he intended to pursue a career in acting, they didn't take the news very well. As Del Toro once told an interviewer, "My family freaked when I told them I wanted to be an actor. It was like telling them I wanted to be an astronaut. On top of that, it was like saying that in order to be an astronaut, I was going to have to drive a cab in New York for five years."
The family, who wanted Benicio to follow in on the family's footsteps and become a lawyer, probably had their worst fears realized when Benicio won his first movie role, playing "Duke the Dog-Faced Boy", in the ill-contrived sequel to Pee-Wee's Big Adventure, Big Top Pee-Wee. Undaunted by the abominable effort, Del Toro stuck it out, and over the course of the next several years, he paid the bills with a steady stream of supporting roles, both in films and on television, including several memorable portrayals of drug-dealing criminals.
His career caught fire with the role of enunciation-challenged con man Fred Fenster in Bryan Singer's stunning crime drama ensemble, The Usual Suspects (1995), a performance for which he won an Independent Spirit award for Best Supporting Actor. He won the same award the following year for his work in the critically acclaimed biographical movie Basquiat, the first commercial feature film about a painter, by a painter. With a résumé comprised of mainstream movies and independent projects, Del Toro has the edge on other actors and film producers to become a hit both at the box office and on the film-festival circuit.
Now living in Los Angeles, Del Toro maintains a low profile between movies, and has managed to avoid becoming entangled in any celebrity romances. His screenwriting and directing debut in the short film Submission, which starred an unknown Matthew McConaughey, premiered at the Venice Film Festival in 1995. The fledgling filmmaker would like to direct again at some point, but has said himself that, "I get quite embarrassed with my acting when I see it on the screen. I would imagine with a film that's my own, I'd be really embarrassed and have to leave the country". While he may not get behind the camera again anytime soon, he's spent plenty of time in front of it:
In 1998, he played the role of Oscar Acosta (a lawyer and confidante) in the Terry Gilliam-directed film Fear and Loathing in Las Vegas. The year 2000 was a phenomenal year for Del Toro with his Golden Globe and Oscar-winning performances in Traffic (Steven Soderbergh's drug war-focused drama) and Snatch (Guy Ritchie's well-received crime thriller).
In 2008, Benicio del Toro received the Best Actor Award at the Cannes Film Festival for his portrayal of Argentine-born Cuban revolutionary Ernesto "Che" Guevara. The 2-part epic, filmed in Spanish, comprises The Argentine and the sequel Guerrilla (together known as "Che"). Benicio invested two years of his life in this project but even after all his hard work, modest Del Toro still says he's "simply an actor". In 2009, the already hairy Benicio played an even hairier lead role: that of the man that gets bitten by a wolf in the remake of 1941's The Wolfman.
More recently Del Toro has enjoyed small parts, picking and choosing his roles. In a more recent appearance he returned in the 2014 movie The Guardians of the Galaxy as the collector, a role he played in the movie Thor: Dark World.  As if an Academy Award wasn't enough, in 2014 Del Toro was awarded the Donostia Lifetime Achievement Award recognizing his career and contribution to film at the San Sebastian Film Festival, the most important festival in the Spanish speaking world. One last interesting bit of information about Benicio del Toro is that he became a Spanish citizen in 2011 which was given to him by the Spanish government as a way to recognize his artistic contributions as well as his Spanish background.