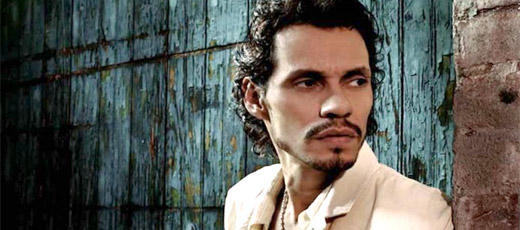 Marc Anthony. Discover Mark Anthony's discography and music. The latin singer and author is world famous for his danceable music and his love songs.
Marc Anthony, an actor, record producer and singer-songwriter of Puerto Rican decent, has become a world icon of Latin music. His full name is Marco Antonio Muñiz and he was born on the 16th of September 1968. The musician began his professional career in salsa, although later Marc Anthony's music became more focused on romantic ballads, pop music and tango. Paul Simon, Marc's teacher and mentor, cast him as the lead in a Broadway show called The Capeman. Later, Marc Anthony's concerts in Madison Square Garden converted the artist into the first Latin Singer to ever sell out the venue.
One of these Marc Anthony concerts inspired an exclusive HBO special, "Marc Anthony: The Concert from Madison Square Garden," which debuted on Valentine's Day in 2000. Marc Anthony's love songs and romantic music reflect his passionate relationships. He has had three major relationships. His first love was Debbie Rosado, a police officer from New York; with whom he had his first child. Marc Anthony's lyrics to the song "My Baby You" were dedicated to her.
After Marc Anthony's relationship with Debbie Rosado had ended, the singer eventually met and married Dayanara Torres (a former Miss Universe). Their marriage ended the first time between the births of their two children, although they later reconciled. However, Marc Anthony's relationship with Torres ended definitively when rumors emerged pointing to Marc Anthony having fathered an extramarital child during their relationship. Later, DNA tests would prove these claims by a female fan to be false.
Marc Anthony & Jennifer Lopez
In 2004, Jennifer Lopez, often known as simply JLo, was preparing a Sway tune for the soundtrack of her movie (Shall We Dance?) when she requested help from Marc Anthony. At the time they were only friends but, unbeknown to JLo, Marc had been in love with her for quite some time. He later admitted that some of Marc Anthony's love songs had been previously inspired by Lopez.
On June 5, 2004 the couple wed in JLo's mansion in Miami. The event confirmed the rumors that had been circling about their love affair. In 2006 Jennifer Lopez and Marc Anthony filmed the movie El Cantante together. The movie is based on the life of Hector Lavoe, a Puerto Rican singer. Hector Lavoe is interpreted by Marc and Jennifer played his wife, Puchi. In 2007 Marc Anthony produced JLo's Spanish debut album Como Ama Una Mujer.
The record, which reached number one according to Billboard magazine, marked the first time Marc Anthony produced and the first time Jennifer Lopez performed entirely in Spanish. The same year, Marc Anthony recorded the soundtrack for El Cantante which also jumped to number one on the charts. On February 22, 2008, Marc Anthony and Jennifer Lopez welcomed non-identical twins Emme and Maximiano into the world. Jennifer Lopez split from husband Marc Anthony in July 2007 after seven years of marriage.
Marc Anthony's Discography
1991 - When The Night Is Over
1993 - Otra nota (salsa)
1994 - Curaçao Salsa
1995 - Todo a su tiempo (salsa)
1997 - Contra la corriente (salsa)
1997 - Hasta que te conocí (salsa)
1999 - Marc Anthony
2001 - Libre
2002 - Mended
2004 - Amar Sin Mentiras
2004 - Valió la Pena
2007 - El Cantante
2010 - Iconos
Marc Anthony's Filmography
Carlito's Way (1993, Brian DePalma) Soundtrack
Natural Causes (1994, James Becket)
Hackers (1995, Iain Softley)
Big Night (1996, Stanley Tucci)
The Substitute (1996)
Runaway Bride. The song: "You Sang To Me"
Bringing Out the Dead (1999), Martin Scorsese)
In the Time of the Butterflies (2001)
Man on Fire (2004, Tony Scott)
El Cantante (2006, Leon Ichaso)
Night Stalker (2007)