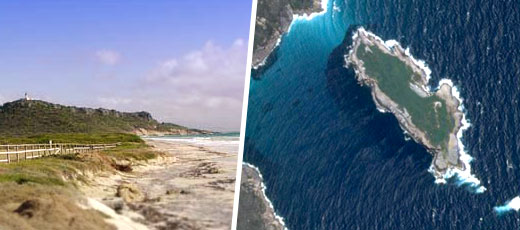 Caja de Muertos. An ostensibly bizarre choice of name for such a beautiful island, Isla de Caja de Muertos, lies at the heart of a highly-emotive legend.
Instantly evoking curiosity owing to its unusual name, Isla de Caja de Muertos, located 8 miles south of Puerto rico's Caribbean coast, welcomes visitors to an island of true tranquility in which clear, turquoise waters gently lap white, sandy shores. Although just 1½ miles long and ½ mile wide, the now uninhabited "Coffin Island", as it is known in English, has been an island of great intrigue over centuries having been the exotic home of pirates, sailors and Spanish colonialists alike. Now an unsurprisingly popular tourist destination, given its beautiful beaches, verdant hiking routes and spectacular wildlife, Caja de Muertos may be small in size but limited in attractions, it certainly is not.
Thanks to a recommendation from Puerto rico's Coastal Management Zone Program, Coffin Island was declared a nature reserve in 1980 and strives, in particular, to protect the island's endangered hawksbill turtles during nesting season.
Awarded with the highly-esteemed "Blue Flag" eco-label in 2010, Coffin Island's, carefully-preserved Pelican Beach works together with this globally-recognized program as it endeavors to achieve sustainable development long into the future.
Dead Man's Chest
An ostensibly bizarre and morbid choice of name for such a beautiful island, Isla de Caja de Muertos, lies at the heart of a widespread and highly-emotive legend. Following the tragic death of his Basque-born lover, allegedly killed by gunfire while aboard his ship, 19th Century Portuguese pirate, Jose Almeida, placed the body of his beloved in a sealed, copper coffin in a desert island cave near to Puerto Rican port city, Ponce. Discovering the coffin still intact many years later, a Spanish engineer aptly baptized the island, Caja de Muertos and the name has 'stuck' ever since. Although less thrilling, but perhaps more realistic, an alternative story is that 18th Century French writer, Jean Baptist Labat, called the island Coffre à Mort as, from afar, its elongated shape is reminiscent of a coffin lying on a table.
Travelling by ferry across an azure expanse, the excited eyes of tourists are immediately, and justifiably, drawn to Caja de Muertos' paradisiacal, white beaches. With the prospect of spending a few lazy days soaking up the rays of an enviable, tropical climate, visitors take great delight in enjoying the perfect, sightseeing break offered by the island. However, that is not to say that the more energetic will be left dissatisfied. From hiking along cacti-lined trails to a hilltop lighthouse to snorkeling amid shoals of quickly-darting fish to kayaking along the calm, shallow waters of the island's Caribbean shore, active tourists are invited to explore both land and sea. Boasting spectacular views of the island's lush landscape and the, seemingly endless, blue sea beyond, Caja de Muertos' 19th Century lighthouse is an absolute tourist favorite due to its prominence on an otherwise sparsely-housed island.
Relaxing and exploring aside, Coffin Island, and its marine surroundings, greet animal lovers with the sight of an abundance of endearing creatures. From blue-tailed iguanas to slowly-gliding leatherback turtles to gracefully-jumping dolphins, the enchanting wildlife alone is worth a visit to this Puerto Rican island. Flying across the sky in all their colorful glory, the red-breasted frigate and primarily-blue kingfisher are also just two examples of the impressive array of endangered bird species to be found in this wildlife-rich haven.
A postcard-worthy destination offering sun and sea all year round, Coffin Island provides visitors with an unforgettable and much-needed respite far from the 'hustle and bustle' of city life.