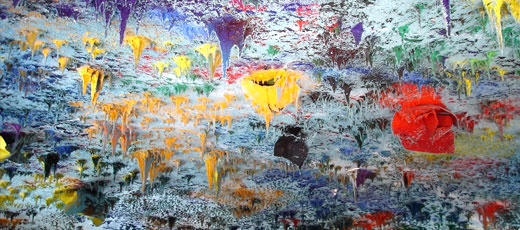 Miquel Barceló is considered one of the most famous contemporary Spanish abstract artist, find out information about his work and life.
Miquel Barceló is a famous Contemporary Spanish artist in constant evolution; both in technique and material whose work includes: paintings, drawings, sculptures, ceramics and cast irons. On one hand he was impacted greatly by Avante-garde, Art Brut, and American Abstract Expressionism while on the other he was particularly interested in the Baroque paintings of Diego Velázquez, Tintoretto and Rembrandt. Barceló clearly had his own experimental attitude and found his personal way of expressionism while never abandoning the rules of conventional painting.
The Spanish abstract artist, Miquel Barceló, was born in Felanitx, Majorca in Spain where he would later study briefly in the Arts and Crafts School of Palma de Majorca (1972-1973) before enrolling at the Fine Arts School of Barcelona in 1974. After a year in Barcelona he would return to Majorca to protest with "Taller Lunátic", a conceptual vanguardist group, and help to participate in the publication of an artists´ newspaper called "Neon de Suro" (1957-1982). One year after returning to Majorca Miquel Barceló displayed his first solo exposition in the Palma Museum. The art exposition was heavily influenced by art brut, a style that Barceló had discovered in 1970 in Paris before beginning his formal art studies.
In the 80's he traveled extensively throughout Europe, United States and West Africa and would eventually set up studios in both Paris and Segou, Mali. Undoubtedly, the time Miquel Barceló spent in different countries affected his art by way of multifaceted landscapes and various cultural influences. His artwork represents an eternal exploration for new forms of expression in which he experiments with different techniques, materials, textures, light perspectives and colors. A reoccurring theme in Miquel Barceló art is the sea, approached from different angles, a motif that could suggest a strong relationship with the island of Majorca, his homeland.
In 1981 Miquel Barceló participated in the São Paulo Art Biennial and in 1982 the painter gained international acknowledgement in "Documenta VII", one of the most important exhibitions of modern and contemporary art which takes place every 5 years in Kassel, Germany. From the mid-eighties on, Miquel Barceló is considered one of the most influential Spanish artists and his work is included in the world's most prestigious international art galleries such as Galerie Bruno Bischofberger and Leo Castelli as well as other important museums and cultural sites. Barceló´s success is recognized in 1986 when he is granted the Spanish National Plastic Arts award (Premio Nacional de Artes Plásticas). By 1996, at the age of 39 years, Miquel Barceló´s last ten years of artwork are exhibited at the National Gallery of Modern Art Pompidou Center in Paris.
As homage to his homeland, in 2004 Miquel Barceló crafted a mural of approximately 300m² for Majorca´s San Pedro Cathedral Chapel. The San Pedro Chapel was dedicated to the holy sacrament of the Last Supper and to honor this theme, Barceló covered the walls of the chapel with terra-cotta and painted them with images related to the multiplication of bread and fish, a miracle from the 6th chapter of the Gospel of Saint John. Earlier in 2003, when he had begun work on the mural in Vietri, Nápoles, he learned that had been honored with the Prince of Asturias Award, the most esteemed art recognition in Spain. The same year that he finished the mural, the Louvre Museum in Paris featured Barceló's watercolor paintings of Dante's Divine Comedy, converting the painter into the youngest artist ever shown in the museum.
Perhaps the most famous of Miquel Barceló's works of art can was officially revealed on 18 November 2008 by the Spanish Government. This controversial work of art is located on the domed ceilings of the Human Rights and Alliance of Civilizations Chamber in the UN's Palace of Nations in Geneva and features multicolored stalactite forms figuratively dripping from the ceiling. Barceló explained that the dome represented "a sea and a cave, in absolute and apposing union" (RTVE.es 18 November 2008) and the idea came to him "on a day of immense heat in the middle of the Sahel desert" in Africa in which he recalled "the mirage of an image of the world dripping towards the sky…. flowing drop by drop" (The Sunday Times 19 November 2008). The massive 16,000 ft ² (1,500 m²) project took one year to produce and cost $23 million, used 100 tons of paint and required the dedication of engineers and architects.
Nowadays, Miquel Barceló's paintings, drawings, sculptures and ceramics are on display in Bruno Bischofberger's Gallery in Zürich and in 2010 an exposition was inaugurated in Barcelona and Madrid paying homage to the last 25 years of the painter's life.
This Spanish contemporary painter still shares his time between Paris, Majorca, and Mali reflecting his cultural diversity which will likely continue to influence his work. Barceló was once was quoted saying: "This is my world, my land and my sea, I have known it always. All of the fish and fruits I know by memory, they have formed part of my cultural landscape since I was a child". (Newspaper "El Mundo" 19 August 2004).