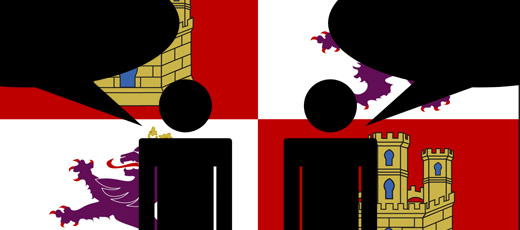 Castilian is the official language of Spain, it is known as Spanish. Castilian is also the most widely spoken Romance language.
Known around the world as "Spanish", this is the official language of the country as it is stipulated in the Article 3 of the Spanish Constitution. All Spaniards have the duty to know it and the right to use it.
Castilian is also spoken in many countries around the globe which were former colonies of Spain, most of them in Central and South America (except Brazil and the Guyanas), but not exclusively, and that is a fact that many people are not aware of. Equatorial Guinea, the former Spanish territory of the Sahara, and parts of the Philippines still speak in Spanish.
This Makes Spanish/Castilian the official and cultural language of some 350 million people. These figures make the official language of the Spanish State, which is also the most widely spoken Romance language, an expressive instrument for a community that embraces the globe, spoken by people from many different ethnic backgrounds. The name of Castilian, and later on Spanish, really emerges from the re-conquest of Spain from the Moors by the Christians. The name Castilian has its origins in the Kingdom of Castile (Castilla), then a borderland that took its name from the castles that were built as garrisons against the enemy. It became the bridge of communication between the different peoples of the Iberian peninsula in the Late Middle Ages aided by the central position of the Castile and its growing prestige as leading power. 
The Spanish Royal Academy preferred to use "Castilian" (castellano) until the 1925 edition of its Dictionary, when it adopted the name of "Spanish" (español). The Real Academia Española, located in Madrid, is entrusted with "purifying, clarifying and giving splendour" to the language, in close contact with other Latin American academies, and mitigating the problems arising from the use of a language spoken in such a large geographic expanse. Its members are recruited from among the most prestigious literary creators and academics.
Other Spanish Language Articles