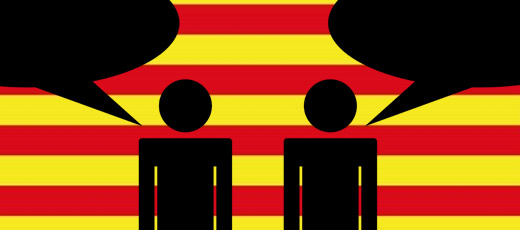 Catalan is the official language of Catalonia & the Balearic Islands. Catalan is also one of the Romance languages spoken in Spain.
The Catalan language is one of the Romance languages spoken in Spain, with its earliest literary text, the Homilies d'Organya, dating back to around the middle of the 12th century. In the 13th, 14th and 15th centuries, Catalan literature flourished, first under the influence of Provençal literature and later as the producer of its own thematic and formal resources. From the 16th to the 18th centuries the Catalan language in Spain underwent a period of decline, in which the Spanish royalty and other political upheavals imposed different restrictions until it emerged in the 19th century with the movement known as the Renaixença, or Renaissance.
Its modern linguistic normalization was brought about with the creation of, in 1907 by Prat de la Riba, the Institut d'Estudis Catalans, whose principal pursuit was higher scientific research of all the elements of the Catalan culture. It is at this famed Institut where Pompeu Fabra effected the regulation and grammatical systematization of the Catalan language; thus unifying spelling standards for its use in 1913.
Since 1979, both Castilian and Catalan are the official languages of Catalonia and since 1983 of the Balearic Islands. In 1982, the Autonomous Community of Valencia declared Castilian Spanish and Valencian, a local variation of the Catalan language, as co-official languages of the region.
Catalan is also spoken in some areas of Aragon and Murcia and outside of Spain in the French Roussillon region, the Principality of Andorra and in the Italian city of Alguer (Sardinia). It is the mother tongue of some 5 to 6 million people. Many Castilian/Spanish speaking people who live in any of these aforementioned areas speak and understand it.
Other Spanish Language