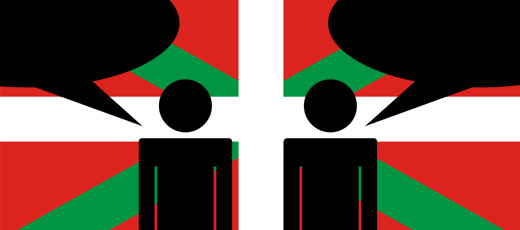 The Euskera language is spoken in the northern central area of Spain, it is also popularlly known as the Basque language.
Euskera, or the Basque language, is spoken in the northern central area of Spain (where the Pyrenees meet the Bay of Biscay) and it is nowadays written with the Latin alphabet. There are about 600,000 speakers in the north of Spain, throughout the province of Guipúzcoa, in Biscay and Navarra and in some parts of Álava. However, Basque is not only spoken in Spain, you will also find Basque people in the French Atlantic Pyrenees (approx. 100,000 speakers).
The origin of Basque is not really traceable and there have been a number of hypotheses. It has been suggested that the forerunner of the Basque language was introduced into this part of Europe by immigrants from Asia Minor at the beginning of the Bronze Age (c. 2000 BC). Basque and Castilian entered history together, since the first text preserved in Castilian, the Código emilianense (c. 977), is also written in Basque.
Since 1982, Euskera has been the official language of the Basque provinces together with Castilian. The mountainous landscape of the region has contributed towards maintaining linguistic diversity, leading some linguists, based on the intercommunicative difficulties found, to claim the existence of seven different Basque languages. To overcome this fragmentation the Royal Academy of the Basque Language was created in 1919, and in 1968, a standardized Basque grammar called batúa was adopted for official purposes.
Other Spanish Language Articles