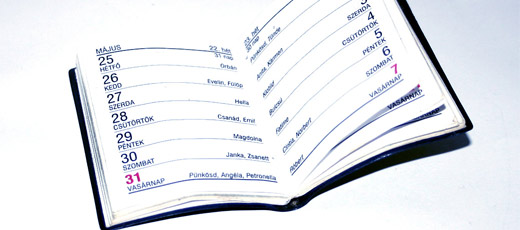 Spanish holidays. Find the most important holidays in Spain & Latin America 2011. Las Fallas, San Fermin, Holy Week, Cervantino, Tomatina...
In Spain and Latin America there are celebrations in every month of the year. When we plan a trip to another country we want to submerge ourselves in the culture and learn about its traditions. This event calendar includes all of the most important holidays so that you can plan your trip and live Spanish.
◄

September 2014
Mon
Tue
Wed
Thu
Fri
Sat
Sun
| | | | | | | | | | | | | | | | | | | | | | | | | | | | | | |
| --- | --- | --- | --- | --- | --- | --- | --- | --- | --- | --- | --- | --- | --- | --- | --- | --- | --- | --- | --- | --- | --- | --- | --- | --- | --- | --- | --- | --- | --- |
| 1 | 2 | 3 | 4 | 5 | 6 | 7 | 8 | 9 | 10 | 11 | 12 | 13 | 14 | 15 | 16 | 17 | 18 | 19 | 20 | 21 | 22 | 23 | 24 | 25 | 26 | 27 | 28 | 29 | 30 |
SEPTEMBER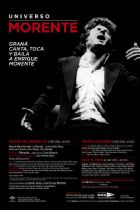 UNIVERSO MORENTE (Until September 26)
Granada
During the month of September, Granada will pay homage to one its greatest stars: the singer Enrinque Morente. On 5th September from 22:00, in the Generalife Theatre there will be a performance of singing and flamenco dancing, and his daughters and son will attend. 6th September, in the Alhambra Theatre, at 21:00 there will be another flamenco show. 20th September will see the last concert in honour of the late singer in the Sala El Tren. On 26th September, in La Tertulia, there will be a "Night of poetry and conversation with Enrique Morente". To see more information on those participating in each performance, visit http://www.entradasgo.com/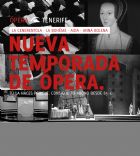 Programación Temporada de Ópera 2014-15 (Until May 23)
Tenerife
The "Adán Martín" Auditorium in Tenerife hosts the 2014-2015 opera season: 12th September: Opera choruses 20th September: Concert by the winners of the 2nd International Singing Competition 23rd and 25th October: Cenerentola (Rossini) 25th, 27th and 29th November: La Bohême (Puccini) 13th December: Gala Lírica with the soprano, Mariella Devia 3rd, 5th and 7th March: Aida (Verdi), presenting the magnificnt stage production by Franco Zeffirelli 11th and 12th April: Hansel and Gretel (Humperdinck) Family Opera 23rd May: Anna Bolena (Donizetti) concert
---

Bienal de Flamenco (Until October 5)
Sevilla
The Bienal is a major international event in the world of flamenco that, every two years, makes Seville the focus of the international flamenco world. The main venues in the city are open for the duration of the festival to host some of the newest releases, the most famous figures and the most innovative and cutting-edge performances. They will be performing from 12th September to 5th October in various venues around the city: Espacio Santa Clara (Claustro y Dormitorio Alto), Hotel Triana, Real Alcázar, Teatro Alameda, Teatro Lope de Vega, Teatro Maestranza and Teatro Central.

PERIPLO 2014 (Until September 21)
PUERTO DE LA CRUZ
From now until September 21, the Festival of Travel and Adventure Literature (Festival Periplo) is being celebrated in Puerto de la Cruz. Visitors will get to check out exhibits, lectures, book presentations, films, and a variety of other activities. Find the full program of activities at: http://www.festivalperiplo.com/wp-content/uploads/2014/09/Periplo_2014.pdf
---

BUNBURY EN CONCIERTO (Until December 18)
Sevilla
This December 18, Enrique Bunbury will perform in Seville as part of his tour to promote his latest album "PaloSanto". He is continuing the tour after some shows were canceled last June due to heavy rain in Valencia.
---

MClan "Dos noches en el Price" (Until December 27)
Sevilla
This September, M Clan will publish "Dos noches en el Price", a live album made up of songs performed at their 20th anniversary concert given in Madrid last June with the participation of Miguel Ríos, Fito, Ariel Rot, El drogas, and Enrique Bunbury, among others. They will be performing in Seville on December 27 at Sala Custom to promote the album.

Tenerife Open de España Femenino 2014 (Until September 21)
Tenerife
Tenerife Open de España Femenino 2014 at Golf Costa Adeje. Golf Costa Adejel will be the venue for the Tenerife Open de España Femenino 2014. The competition will take play between the 18th and 21st September in this splendid resort in the south of the island.
---

Crystal Fighters en Granada
Granada
The British group Crystal Fighters will be performing in Granada on 18th September as part of the Vodafone Yu Music Shows. The concert will be held in the Palacio de Exposiciones y Congresos in Granada beginning at 21:30, with exclusive free tickets for Vodafone users over the age of 18. Moreover, Vodafone clients will have the chance to win a Meet&Greet with the artists. There is more information on this event on the website www.vodafoneyumusicshows.es.
---

II Festival Internacional de Cortometrajes "Tenerife Shorts" (Until September 21)
Tenerife
The second edition of the Festival Internacional de Cortometrajes (International Festival of Film Shorts), Tenerife Shorts, is called "928" (telephone prefix of Las Palmas in Gran Canaria). This festival concentrates on a series of short films by young film-makers from Gran Canaria that emerged from the aftermath of the Festival Internacional de Cine de Las Palmas de Gran Canaria (Internation Film Festival of Las Palmas, Gran Canaria). The second edition of Tenerife Shorts will take place between the 18th and 21st September in the Teatro Guimerá in Santa Cruz de Tenerife. During its four-day program, the festival will show the best short international short films.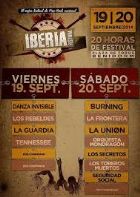 Iberia Festival (Until September 20)
Alicante
The Iberia Festival returns to Benidorm with a program that brings together 15 legendary groups from the 80s on the 19th and 20th September, with 20 hours of continuous music. Jorge Ilegal, Ariel Rot, Santi Campillo and Jaime Urrutia are all confirmed acts. Although an experiemnt last year, with an attempt to reunite some of the most important figures of the pop-rock scene of the 80s in the same place at the same time, this first edition turned out to be a huge success on 21st September 2013. The festival will take place in the Plaza de Toros (Bull Ring) in Benidorm. The festival begins on Friday 20th September at 19:00, with performances from Danza Invisible, Los Rebeldes, La Guardia, Tennesse, Trogloditas, Dani Martín and other artists that will be playing until 03:00. On the night of Saturday 20th. the concerts will start at 16:00 and will last for 12 hours until 4am; groups such as Burning, La Frontera, La Unión, Orquesta Mondragón, Los Secretos, Los Toreros Muertos and Seguridad Social will be performing.
---

David Bisbal, en concierto
Granada
On 19th September the singer with the golden curls comes to the Palacio de los Deportes in Granada, where he will perform his show "Tú y yo", which he is touring around Spain, at 22:00. This is an event that followers of this "triufito" cannot miss.

3rd ALHAMBRA SOUND MUSIC FESTIVAL
Granada
The third annual Alhambra Sound will take place on September 20, beginning at 15:00 in the La Nueva Industrial Copera. There will be two stages that will highlight the best of Spanish pop music all in one location. Entrance: €15 Participating groups: KAKKMADDAFAKKA, VETUSTA MORLA, LORI MEYERS, IZAL, JERO ROMERO, LEÓN BENAVENTE, SECOND, NAPOLEÓN SOLO, FULL, SEXY ZEBRAS, NEUMAN, ELYELLA DJs, THE ZOMBIE KIDS, DANI LESS y GENÉRICA.
---

II Festival de Blues de Sevilla
Sevilla
Spain's largest free blues festival will take place in Seville on Saturday, September 20. The 2nd Festival de Blues de Sevilla will offer three daytime concerts in the plaza de San Francisco and three evening shows in Los Príncipes Park. The festival will feature Chicago blues great Lurrie Bell. At 12:00, the group "Los Enbluesteros" will kick off a full day of blues with a concert and later "The Blues Ministers" will perform. At 6 pm, a guitar master class will be given at the Tejar de Mellizo civic center. Concerts in Los Príncipes Park will begin at 8 pm with performances by Kid Carlos Band, Madrid Blues Ghetto, and Lurrie Bell with his band.
---

DAVID BISBAL EN CONCIERTO
Sevilla
After the acoustic tour that took David Bisbal to the most important theatres in the world where he performed more than 100 concerts, he now comes to perform his new studio album that was recorded in Los Angeles and features 12 new unreleased tracks. His new tour "TÚ Y YO" comes to Seville on Saturday 20th September at the Olympic Stadium.
---
III Alhambra Sound
Granada
On September 20th ALHAMBRA SOUND will once again be celebrated in the Feria de Muestras de Armilla (Granada). For another year the city of Granada will be reuniting renowned and emerging bands, who will be giving performances in this third edition of the festival. In this edition there will be more bands and performance, such as: Kakkmaddafakka, Vetusta Morla, Lori Meyers, Izal, Jero Romero, León Benavente, Second, Napoleón Solo, Full, Sexy Zebras, Neuman, Elyella Djs, The Zombie Kids and Genérica. More information and tickets (35€) at http://www.alhambrasound.com/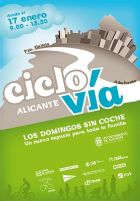 Ciclovia Alicante (Until September 28)
Alicante
This Sunday the City of Alicante Traffic Department is organizing a "Bike Lane" day in Alicante. On this day the city will close parts of the Avenida Maestro José Garberí to Playa San Juan so that cyclists and skaters, pedestrians and joggers can enjoy a safe place to practice their sport and celebrate the "Gran Fiesta de la Movilidad" which forms part of the Car-Free Day during the 2014 European Mobility Week. This event will take place from 10:00 to 14:00. There will also be a raffle for two bicycles for people participating in a bicycle city tour taking place on September28. Signups will be held at the Cadena 100 stand which will be present during the Ciclovía on September 21 to participate in this event.

STARMUS 2014 (Until September 27)
Tenerife
This week, Tenerife will be the center of the astrophysical world. The Starmus Festival will offer during six days conferences by the likes of Stephen Hawking and Nobel prize winners Robert Wilson, John Mather and Harold Kroto. There will also be musical concert with Rick Wakeman and Bryan May (astrophysicist and guitarist from Queen) in the MAGMA Arte & Congresos. For more information, go to starmus.com

TRICICLE, ahora digital
Tenerife
In the Auditorio "Adán Martín" in Santa Cruz, Tenerfie, the Catalan magic group Tricile will be performing. On this occasion, they will be performing their show "Bits", a colelction of sketches with the Internet and the virtual world at their centre. The actors are bits and the stage is the giant screen of a laptop; the scene changes, costumes and characters all happen at the click of the mouse and at the speed of light. The performance takes place on September 24th at 21:00. Tickets cost between 15 and 35 euros, with a 50% discount for children up to the age of 16, and a 20% discount for people under the age of 25 and over the age of 65.

Mónica Naranjo, en concierto
Granada
On September 26th, at 21:30 in the Palacio de Exposiciones y Congresos (Exhibition and Congress Centre), you can enjoy the untouchable Mónica Naranjo, who peforms her "TOUR 4.0". This singer, with her powerful voice and strong presence she will delight the public with her performances and poise on stage.
---

LA NOCHE DE LOS VOLCANES
Puerto de la Cruz
On September 26, the 3rd annual Volcanoes will take place on the seven Canary Islands and in Almagro, Ciudad Real. This edition will focus on the educating people about this terrestrial phenomenon. In the case of Puerto de la Cruz, there will be exposcions, children's activities, movie screenings, concerts and many more activities throughout the day and throughout the city in places like The Plaza de Europa, la Punta del Viento, and el Muelle. All of the information you'll need as well a program of events can be found here: http://www.nochedevolcanes.es/sedes/tenerife/
---

Hombres G
Alicante
A very special Hombres G birthday The popular band from Madrid, Hombres G (G Men) will perform in a very special concert commemorating the 25th anniversary of El Corte Ingles in Alicante. The concert will take place in the Plaza de Toros on September 26 at 22:30. The popular music critic, Fernandisco, will also spin what he considers the greatest hits from the past 25 years

10th Annual Youth Week in Alicante (Until October 5)
Alicante
During Alicante Youth Week the city will offer in different parts of the city activities for young people. There will be workshops, roundtable discussions, conferences, special movie screenings, concerts and a fair of local associations. This10th annual youth week will take place from September 29 to October 5. An excellent cultural offering of fun and culture dedicated to young people. Download the program and program map here: http://cjalacant.org/setmanajove/