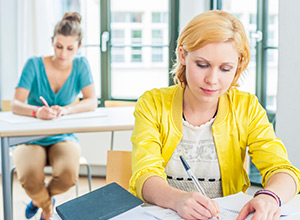 DELE Exam - Spanish Proficiency Test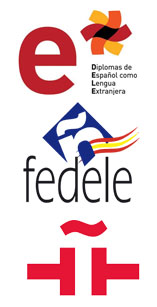 DELE stands for Diploma de Español como Lengua Extranjera, or "Spanish as a Foreign Language Diploma". It is the only certificate for non-native Spanish speakers that is officially recognized by the Spanish Ministry of Education. This diploma is of great international value for those who are going to study at a Spanish University and who want to work, or are going to work in a Spanish-speaking environment.
We advise everyone taking a long term Spanish course to take the DELE Preparation course for a successful examination. Please note, however, that the preparation course is not intended to help you achieve a higher Spanish level, but to prepare you for the exam of your current level.
There are DELE Preparation courses for each exam, according to the level of qualification (A1, A2, B1, B2, C1, and C2), that can be obtained at all the don Quijote Spanish schools in Spain and Latin America. Until now, a very high percentage of our students have successfully passed the exam. This does not guarantee that you will pass the official DELE exam, as this depends on many circumstances. However, we do guarantee that you get a high quality DELE Preparation Course.
The place and time of the DELE courses are based on the examination dates established by the Spanish Ministry of Education each year. Due to practical advantages, most students decide to take the DELE exam in Spain. However, the test can also be taken outside of Spain. The examination fees are set each year by the Spanish Ministry of Education, the Cervantes Institute and each individual examination center.
2014 DELE Exam dates*:
- April 11
- May 23, 24
- July 18
- October 17
- November 22
* Please note that not all levels are offered on each exam date. Consult for more information, www.dele.org
General registration periods for the 2014 DELE exams:
- April Exam: February 17 - March 7
- May Exams: February 17 - April 11
- July Exam: February 17 - June 13
- October Exam: February 17 - September 12
- November Exam: February 17 - October 17
Register with don Quijote for the 2014 examinations
FEDELE registration centers for the DELE exam
don Quijote Barcelona
don Quijote Madrid
don Quijote Granada
don Quijote Salamanca
don Quijote Tenerife
don Quijote Valencia
don Quijote Guanajuato (Mexico)
Students interested in taking the DELE exam can get in contact with the Spanish Embassy or Consulate in their country, the Cervantes Institute or contact us for more information.
2014 prices and practical information
Choose your destination
Spain: Barcelona
Granada
Madrid
Salamanca
Tenerife
Valencia
Mexico: Guanajuato
Oaxaca
Playa del Carmen
Puerto Vallarta
Argentina: Buenos Aires
Cordoba
Costa Rica: Heredia
Ecuador: Quito
Country

Spain

Price List

Level
A1/A2
B1/B2
C1/C2
2 weeks
€ 470
€ 470
€ 520
4 weeks
€ 800
€ 800
€ 890

Practical Information

Duration
2 or 4 weeks
Frequency
20 lessons per week + 2 hours of D.E.L.E. Exam suport
Classes
Minimum of 2 students, Maximum 12 students
Start dates
Apr 28, May 12, Jun 23, Jul 7, Oct 27, Nov 10
Level
You must have at least the same level of Spanish taught in the Course
Age Range
Minimum 17 years old
Minutes per lesson
50

Country

Spain

Price List

Level
A1/A2
B1/B2
C1/C2
2 weeks
€ 390
€ 390
€ 520
4 weeks
€ 680
€ 680
€ 890

Practical Information

Duration
2 or 4 weeks
Frequency
20 lessons per week + 2 hours of D.E.L.E. Exam suport
Classes
Minimum of 2 students, Maximum 12 students
Start dates
Apr 28, May 12, Jun 23, Jul 7, Oct 27, Nov 10
Level
You must have at least the same level of Spanish taught in the Course
Age Range
Minimum 17 years old
Minutes per lesson
50

Country

Spain

Price List

Level
A1/A2
B1/B2
C1/C2
2 weeks
€ 470
€ 470
€ 520
4 weeks
€ 800
€ 800
€ 890

Practical Information

Duration
2 or 4 weeks
Frequency
20 lessons per week + 2 hours of D.E.L.E. Exam suport
Classes
Minimum of 2 students, Maximum 12 students
Start dates
Apr 28, May 12, Jun 23, Jul 7, Oct 27, Nov 10
Level
You must have at least the same level of Spanish taught in the Course
Age Range
Minimum 17 years old
Minutes per lesson
50

Country

Spain

Price List

Level
A1/A2
B1/B2
C1/C2
2 weeks
€ 470
€ 470
€ 520
4 weeks
€ 800
€ 800
€ 890

Practical Information

Duration
2 or 4 weeks
Frequency
20 lessons per week + 2 hours of D.E.L.E. Exam suport
Classes
Minimum of 2 students, Maximum 12 students
Start dates
Apr 28, May 12, Jun 23, Jul 7, Oct 27, Nov 10
Level
You must have at least the same level of Spanish taught in the Course
Age Range
Minimum 17 years old
Minutes per lesson
50

Country

Spain

Price List

Level
A1/A2
B1/B2
C1/C2
2 weeks
€ 470
€ 470
€ 520
4 weeks
€ 800
€ 800
€ 890

Practical Information

Duration
2 or 4 weeks
Frequency
20 lessons per week + 2 hours of D.E.L.E. Exam suport
Classes
Minimum of 2 students, Maximum 12 students
Start dates
Apr 28, May 12, Jun 23, Jul 7, Oct 27, Nov 10
Level
You must have at least the same level of Spanish taught in the Course
Age Range
Minimum 17 years old
Minutes per lesson
50

Country

Spain

Price List

Level
A1/A2
B1/B2
C1/C2
2 weeks
€ 470
€ 470
€ 520
4 weeks
€ 800
€ 800
€ 890

Practical Information

Duration
2 or 4 weeks
Frequency
20 lessons per week + 2 hours of D.E.L.E. Exam suport
Classes
Minimum of 2 students, Maximum 12 students
Start dates
Apr 28, May 12, Jun 23, Jul 7, Oct 27, Nov 10
Level
You must have at least the same level of Spanish taught in the Course
Age Range
Minimum 17 years old
Minutes per lesson
50

Country

Mexico

Price List

Level
B1 - B2
C1 - C2
4 weeks
$886
$974

Practical Information

Duration
4 weeks
Frequency
20 Group classes
Classes
Maximum 8 students
Start dates
Mar 17, Apr 28, Jun 23, Sep 22, Oct 27
Level
All Levels
Age Range
Minimum 14 years old
Minutes per lesson
50

Country

Mexico

Price List

Level
B1 - B2
C1 - C2
4 weeks
$886
$974

Practical Information

Duration
4 weeks
Frequency
20 Group classes
Classes
Maximum 8 students
Start dates
Mar 17, Apr 28, Jun 23, Sep 22, Oct 27
Level
All Levels
Age Range
Minimum 14 years old
Minutes per lesson
50

Country

Mexico

Price List

Level
B1 - B2
C1 - C2
4 weeks
$886
$974

Practical Information

Duration
4 weeks
Frequency
20 Group classes
Classes
Maximum 8 students
Start dates
Mar 17, Apr 28, Jun 23, Sep 22, Oct 27
Level
All Levels
Age Range
Minimum 14 years old
Minutes per lesson
50

Country

Mexico

Price List

Level
B1 - B2
C1 - C2
4 weeks
$886
$974

Practical Information

Duration
4 weeks
Frequency
20 Group classes
Classes
Maximum 8 students
Start dates
Mar 17, Apr 28, Jun 23, Sep 22, Oct 27
Level
All Levels
Age Range
Minimum 14 years old
Minutes per lesson
50

Country

Argentina

Price List

1 week
€ 360

Practical Information

Duration
From 1 week
Frequency
20 Group classes + 8 Private classes
Classes
Maximum 7 students
Start dates
Apr 7, Oct 6
Level
All Levels
Age Range
Minimum 16 years old
Minutes per lesson
55

Country

Argentina

Price List

1 week
€ 305

Practical Information

Duration
From 1 week
Frequency
20 Group classes + 8 Private classes
Classes
Maximum 7 students
Start dates
Apr 7, Oct 6
Level
All Levels
Age Range
Minimum 16 years old
Minutes per lesson
55

Country

Costa Rica

Price List

30 Group classes
€ 1950

Practical Information

Duration
From 1 week
Frequency
30 Group classes
Classes
Maximum 8 students
Start dates
Apr 7, Oct 6
Level
All Levels
Age Range
Minimum 14 years old
Minutes per lesson
55

Country

Ecuador

Price List

30 Group classes
€ 1550

Practical Information

Duration
From 1 week
Frequency
30 Group classes
Classes
Maximum 8 students
Start dates
Apr 7, Oct 6
Level
All Levels
Age Range
Minimum 18 years old
Minutes per lesson
60