DELE Preparation Course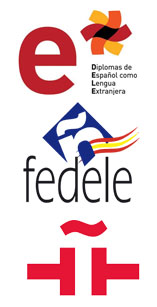 DELE - Diplomas of Spanish as a Foreign Language
The DELE or Diplomas of Spanish as a Foreign Language are official titles which certify test takers' level of understanding and command of the Spanish language, and which are granted by the Instituto Cervantes in the name of the Ministry of Education, Culture and Sport of Spain.  These certificates are valued internationally. DELE exams follow the Common European Framework of Reference for Languages (CEFR) of the Council of Europe and are held for six language levels: A1-A2-B1-B2-C1-C2.
We recommend taking a long duration Spanish course along with the DELE preparation course in order to achieve a successful outcome on the exam. The objective of a preparation course is not to improve your language level but rather to prepare you to obtain a certificate for your current language level.
We offer DELE preparation courses for each language level examined (A1, A2, B1, B2, C1 and C2). You can attend a DELE preparation course at any donQuijote school in Spain or Latin America. To date, a large percentage of our students have passed the exam successfully. This does not guarantee that you will pass the DELE exam, as passing the exam depends on many factors; however we do guarantee the highest quality DELE preparation course possible.
Dates and annual fees for DELE exams are established annually by the Instituto Cervantes. Although the exam can also be taken outside of Spain, we recommend taking it in Spain or Latin America right after completing the preparation course. Exam fees in Spain are the same at every exam center.
DELE Exam Dates 2017*:
- February 10
- April 7
- May 13
- July 14
- September 15
- October 13
- November 25
DELE Exam Registration Dates 2017:
The last days to register for each of the different exam sessions are the following:
- February exam: January 11
- April exam: February 15
- May exam: March 29
- July exam: may 24
- September exam: August 2
- October exam: August 30
- November exam: October 11
*Please keep in mind that not all levels are offered at each exam session. For more information go to www.dele.org or the website of Instituto Cervantes.
Start dates for 2 week course:
- January 30
- March 27
- May 2
- July 3
- September 4
- October 2
- November 13
Start dates for 4 week course:
- January 16
- March 13
- April 17
- June 16
- August 21
- September 18
- October 30
Ideal Education Group DELE exam centers
Ideal Education Group is happy to report that four of our centers have been designated Fedele exam centers for DELE exams.
The designated centers include:
donQuijote Valencia
donQuijote Madrid
Enforex Madrid
Enforex Malaga
2017 prices and practical information
Choose your destination
Spain: Barcelona
Granada
Madrid
Malaga
Salamanca
Sevilla
Valencia
Mexico: Guanajuato
Oaxaca
Playa del Carmen
Argentina: Buenos Aires
Cordoba
Costa Rica: Heredia
Ecuador: Quito
/li>
Country

Spain

Price List

Classes
20
10
2 weeks
€ 490
€ 640
4 semanas
€ 980
-

Practical Information

Duration
2 or 4 weeks
Frequency
20 /10 lessons per week
Classes
Minimum of 3 students, Maximum 14 students
Level
You must have at least the same level of Spanish taught in the course
Age Range
Minimum 17 years old
Minutes per lesson
55

Country

Spain

Price List

Classes
20
10
2 weeks
€ 490
€ 640
4 weeks
€ 980
-

Practical Information

Duration
2 or 4 weeks
Frequency
20/10 lessons per week
Classes
Minimum of 3 students, Maximum 14 students
Level
You must have at least the same level of Spanish taught in the course
Age Range
Minimum 14 years old
Minutes per lesson
55

Country

Spain

Price List

Classes
20
10
2 weeks
€ 490
€ 640
4 weeks
980 €
-

Practical Information

Duration
2 or 4 weeks
Frequency
20/10 lessons per week
Classes
Minimum of 3 students, Maximum 14 students
Age Range
Minimum 17 years old
Minutes per lesson
55

Country

Spain

Price List

Classes
20
10
2 weeks
€ 490
€ 640
4 weeks
€ 980
-

Practical Information

Duration
2 or 4 weeks
Frequency
20/10 lessons per week
Classes
Minimum of 3 students, Maximum 14 students
Level
You must have at least the same level of Spanish taught in the course
Age Range
Minimum 14 years old
Minutes per lesson
55

Country

Spain

Price List

Classes
20
10
2 weeks
€ 490
€ 640
4 weeks
€ 980
-

Practical Information

Duration
2 or 4 weeks
Frequency
20/10 lessons per week
Classes
Minimum of 3 students, Maximum 14 students
Level
You must have at least the same level of Spanish taught in the course
Age Range
Minimum 17 years old
Minutes per lesson
55

Country

Spain

Price List

Classes
20
10
2 weeks
€ 490
€ 640
4 weeks
€ 980
-

Practical Information

Duration
2 or 4 weeks
Frequency
20/10 lessons per week
Classes
Minimum of 3 students, Maximum 14 students
Level
You must have at least the same level of Spanish taught in the course
Age Range
Minimum 14 years old
Minutes per lesson
55

Country

Spain

Price List

Classes
20
10
2 weeks
€ 490
€ 640
4 weeks
€ 980
-

Practical Information

Duration
2 or 4 weeks
Frequency
20/10 lessons per week
Classes
Minimum of 3 students, Maximum 14 students
Level
You must have at least the same level of Spanish taught in the course
Age Range
Minimum 17 years old
Minutes per lesson
55

Country

Mexico

Price List

20 Group classes
$ 1390
20 Private classes
$ 1790

Practical Information

Duration
4 weeks
Frequency
20 Classes
Classes
Maximum 8 students
Level
All Levels
Age Range
Minimum 16 years old
Minutes per lesson
55

Country

Mexico

Price List

20 Group classes
$ 1390
20 Private classes
$ 1790

Practical Information

Duration
4 weeks
Frequency
20 Classes
Classes
maximum 8 students
Level
All levels
Age range
Minimum 16 years old
Minutes per class
55

Country

Mexico

Price List

20 Group classes
$ 1390
20 Private classes
$ 1790

Practical Information

Duration
4 weeks
Frequency
20 Classes
Classes
Maximum 8 students
Level
All Levels
Age Range
Minimum 16 years old
Minutes per lesson
55

Country

Argentina

Price List

1 to 9 weeks
$ 435 per week
+10 weeks
$ 300 per week

Practical Information

Duration
From 1 week
Frequency
20 Group classes + 8 Private classes
Classes
Maximum 7 students
Start dates
Any Monday, all year round
Level
All Levels
Age Range
Minimum 16 years old
Minutes per lesson
45

Country

Argentina

Price List

1 to 9 weeks
$ 335 per week
+9 weeks
$ 310 per week

Practical Information

Duration
From 1 week
Frequency
20 Group classes + 8 Private classes
Classes
Maximum 7 students
Start dates
Any Monday, all year round
Level
All Levels
Age Range
Minimum 16 years old
Minutes per lesson
45

Country

Costa Rica

Price List

Level
A1-C2
20 Group classes
$ 1390
20 Private classes
$ 1790

Practival Information

Duration
4 weeks
Classes
Minimum 4 students, maximum 8 students
Level
You must have at least the same level of Spanish taught in the course
Age Range
Minimum 16 years old
Minutes per class
55

Country

Ecuador

Price List

Level
A1-C2
20 Group classes
$ 995
20 Private classes
$ 1090

Practical Information

Duration
4 weeks
Frecuency
20 Classes
Classes
Minimum 4 students, maximum 8 students
Start date
The date for the class and exams are to be confirmed
Level
All levels
Age Range
Minimum 16 years old
Minutes per class
55