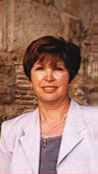 You'll speak Spanish from the first class.
The enthusiasm, experience and professionalism of our more than one hundred teachers is our guarantee. All are university qualified to teach Spanish. All will help you learn the language in an enjoyable and effective way while you immerse yourself in an exciting new culture. You'll learn Spanish by living Spanish - in our classrooms, in your activities and excursions, and in the streets of your destination city.
CARIDAD SANTANA SÁNCHEZ
Academic Director of the don Quijote schools
Our Teaching Method is Interactive and Proven
don Quijote has developed an open, flexible and interactive method of teaching, drawing on our years of experience, our understanding of the cognitive process of language learning, and our continual reflection on the desires and interests of our students. You'll learn Spanish as you learnt your native language - through practice and continuous communication. We adapt our method to meet both individual student needs and the demands of the Common European Framework of Reference for Languages.
We strive to transform our classrooms into lively, interactive spaces providing the ideal elements for you to quickly attain your Spanish language goals. To do this, we mix a variety of tasks and activities: communicative and interactive, grammatical and cultural. We will truly immerse you in the Spanish language and Hispanic culture!
You'll study in small groups with personal attention
At don Quijote, you'll always be the center of attention. Within the Intensive and Super-intensive courses, you will study in small groups.
The right study level for you, based on a recognized framework

Your teacher… friendly, enthusiastic and patient
We offer 6 basic levels in accordance with the Common European Framework of Reference for Languages:
Beginner A1:
These speakers have the ability to understand and use common expressions and simple phrases for satisfying immediate needs. They can also maintain basic interaction in the language as long as their conversation partners speak slowly and clearly.
Beginner A2:
These speakers can understand commonly used expressions and phrases related to topics that are particularly relevant for them. They can also communicate when carrying out simple, everyday tasks, and they can use simple terms to describe aspects about the past and matters related to immediate needs.
Intermediate B1:
These speakers can understand the main points of texts written in clear, standard language about topics they already have an understanding of. They can also get by in most types of situations that can arise when travelling in regions where the language is spoken. They can also produce simple texts on familiar topics as well as describe experiences, events, and aspirations, and briefly defend opinions or explain plans.
Advanced B2:
These speakers can understand the main points of complex texts on concrete and abstract topics. They can even understand technical ones as long as these are within the speaker's specialized field. They can fluently and naturally communicate with native speakers in a way that does not require extra effort.  They can produce clear and detailed texts about a diverse variety of topics and they can defend their point of view on general topics.
Superior C1:
These speakers can understand and recognize implicit meaning in a wide variety of long and somewhat demanding texts. They can express themselves fluently and spontaneously without showing effort to find the appropriate expression. They can make flexible and effective use of the language in social, academic, and professional contexts. They can also produce clear, detailed, and well-structured texts on somewhat complex topics.
Mastery C2:
These speakers understand with relative ease everything they hear and read. They can reconstruct information from a diverse range of spoken and written sources and present them in a coherent and summarized way. They can express themselves spontaneously and with great fluency and accuracy even in highly complex situations.
Approximate number of hours required to acheive each level:
A1: 60, A2: 80, B1: 100, B2: 120, C1: 120, C2: 380
Our own published teaching materials
As a result of over 20 years' experience, we have developed and produced our own text books and have more books in the pipeline. You'll also work with fresh and continuously updated support materials, including press articles, advertisements, audiovisual materials, etc.
A flexible timetable during your don Quijote Spanish course
We'll expect you at school at eight o'clock on Monday morning - the first day of the course - to test your language level. If Monday coincides with a public holiday, we will start on Tuesday. If you are a complete beginner, you won't have to take the placement test, but you will still need to arrive at the school at the same time to get your bearings and start learning as soon as possible.
You will have at least four classes each day, with a half an hour break. Each class lasts for 50 minutes. They take place between 9am and 7pm. You may have classes in the morning or in the afternoon. Your schedule will depend on several elements (the current groups, your level, type of course, etc) and will be decided once you have arrived.
A certificate of completion to show off your accomplishment

A certificate showing what you've learned
After completing the course you will receive a certificate for the whole course if you have attended at least 85% of the classes. This certificate reflects: the course you have taken, duration, objectives and level of Spanish, special subjects, additional courses and number of hours. If you have attended less than 85% of your classes, the certificate will only reflect the actual number of classes (hours) you attended. For students from the United States, we give the assessment results according to the American grading system.
Our syllabus and programs of study
Our syllabi and course programs are available in Spanish and English for Spanish teachers, heads of department, deans and tutors.