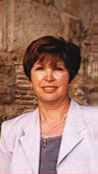 You'll speak Spanish from the first class.
The enthusiasm, experience and professionalism of our more than one hundred teachers is our guarantee. All are university qualified to teach Spanish. All will help you learn the language in an enjoyable and effective way while you immerse yourself in an exciting new culture. You'll learn Spanish by living Spanish - in our classrooms, in your activities and excursions, and in the streets of your destination city.
CARIDAD SANTANA SÁNCHEZ
Academic Director of the don Quijote schools
Our Teaching Method is Interactive and Proven
don Quijote proudly offers its students over 30 years of teaching and study abroad experience. Our teaching methodology has been carefully refined over the years to guarantee absolute success and satisfaction – regardless of your Spanish level, program and destination.
Our method of teaching Spanish follows the Common European Framework of Reference for Languages (CEFR) and focuses on learning through action and the communicative approach. We create authentic environments in which social interaction and consistent feedback is fundamental. We use real-life situations as valuable learning tools in which students always play an active role.We take communicative and humanistic approaches where the student is not a mere recipient of linguistic knowledge but an active key player who is responsible for his or her own progress. Students experience personal and academic growth as they contemplate social interactions and intercultural understanding pertaining to language. The combination of both communicative and humanistic aspects results in a linguistic as well as an intercultural approach. We teach grammar and vocabulary as an instrument to achieve the ultimate goal: students are able to communicate, live and work in any Spanish-speaking environment.

Our goal is not only to educate the student fully and comprehensively, but also to enable students to express themselves effectively and fluently. To this end, we guarantee small group classes and expert teachers who are dedicated to the success of their students.

At don Quixote, our students become fluent in Spanish while discovering our culture, history and traditions, as well as new perspectives and way of life. Join us for a unique and personalized Spanish learning journey that will inspire you.
You'll study in small groups with personal attention
At don Quijote, you'll always be the center of attention. Within the Intensive and Super-intensive courses, you will study in small groups.
The right study level for you, based on a recognized framework

Your teacher… friendly, enthusiastic and patient
Your Spanish proficiency is determined by taking a specially designed test, which is scored on a scale of six levels from Basic (A1) to Mastery (C2). The levels of our courses are developed according to the curriculum Instituto Cervantes (PCIC) which follows the Common European Framework of Reference for Languages (CEFR).

Basic - A1:
This is the first level for new Spanish learners. You will learn to exchange information with brief questions and answers, as long as speech is slow and deliberate.

Beginner - A2:
Once you advance to the next level, you will learn to relate and express yourself in spoken and written Spanish, using simple language in everyday situations and cultural aspects.

Intermediate - B1:
You will be able to understand the main points of texts written in clear, standard language about topics they already have an understanding of, communicate in the context of your daily environment and learn important problem solving skills.

High Intermediate - B2:
At this level you will acquire the ability to interact in general situations where there is an exchange of information, express opinions about topics that are familiar or interesting and talk about personal experiences. This is the level you'll need to qualify for most Spanish speaking universities and undergraduate programs.

Advanced - C1:
At this level you will have the ability to understand and express yourself in multiple situations with complex linguistic structures with fluency and spontaneity. This level is what is needed to qualify for postgraduate studies at most prestigious universities.

Mastery - C2:
In this last level you will be able to appropriately express yourself in any situation, mastering linguistic and cultural elements characteristic and you will be able to distinguish nuances of meaning.
Approximate number of hours required to acheive each level:
A1: 60, A2: 80, B1: 100, B2: 120, C1: 120, C2: 380
Our teachers
All of our teachers are highly trained and carefully selected to provide the highest quality courses for our students. All teachers are native Spanish speakers, have at least a university degree in Foreign Languages, Spanish Literature or Humanities and many also have a Master's Degree in Teaching Spanish as a Foreign Language. Each teacher takes continuing education courses and receives additional educational training with our team. Along with positive personal traits and a passion for teaching, our teachers are highly effective and provide the highest quality service.
Educational excellence is our reason for being. Our teacher's dedication, continuous training and many years of experience make us leaders in teaching Spanish worldwide.
A flexible timetable during your don Quijote Spanish course
We'll expect you at school at eight o'clock on Monday morning - the first day of the course - to test your language level. If Monday coincides with a public holiday, we will start on Tuesday. If you are a complete beginner, you won't have to take the placement test, but you will still need to arrive at the school at the same time to get your bearings and start learning as soon as possible.
You will have at least four classes each day, with a half an hour break. Each class lasts for 50 minutes. They take place between 9am and 7pm. You may have classes in the morning or in the afternoon. Your schedule will depend on several elements (the current groups, your level, type of course, etc) and will be decided once you have arrived.
A certificate of completion to show off your accomplishment
After completing the course you will receive a certificate for the whole course if you have attended at least 85% of the classes. This certificate reflects: the course you have taken, duration, objectives and level of Spanish, special subjects, additional courses and number of hours. If you have attended less than 85% of your classes, the certificate will only reflect the actual number of classes (hours) you attended. For students from the United States, we give the assessment results according to the American grading system.
Our syllabus and programs of study
Our syllabi and course programs are available in Spanish and English for Spanish teachers, heads of department, deans and tutors.