Population: 12 Million.
Location: Province of Buenos Aires (Capital City).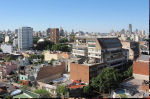 Buenos Aires, the capital of Argentina, and some would say of South America too, is located on the eastern coast of the country, across the Rio de la Plata (the world's largest river estuary) from Uruguay. Sometimes affectionately called the "Paris of South America", it is a city that never sleeps, thanks to the lively enthusiasm of its locals – or Porteños.
Named after the patron saint of the Spanish navy that first landed on the continent, Nuestra Señora de Santa María de Buen Aire (literally the provider of good wind), it was not until 1776 that Buenos Aires received any kind of importance, when it was named capital of the new viceroyalty of the Argentine territories. Argentina declared independence from Spain in 1810, but it really came into its own about half a century later, when the Industrial Revolution created huge demand for Argentina products, particularly beef.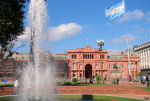 The city's population soared from 1890, thanks to a large influx of British investment and European immigration, bringing their wealth with them. These days Buenos Aires – or simply BA – is a thriving metropolis. Dotted around the city are countless cafes, bars and restaurants, reinforcing Buenos Aires's image as a sociable place. There are also opera houses, theaters, galleries and palaces dating from the period of empirical rule.
Although there are too many important sites to name here, several are worth mentioning. The Casa Rosada occupies the entire eastern side of Plaza de Mayo, and is the official residence of the Argentine President. It's notable for being painted pink, and its balcony was the scene of Eva Peron's famous resignation speech. The Museo Histórico Nacional is Argentina's museum dedicated to preserving national artifacts dating from the independence revolution. Being in BA, you will soon learn that the city does not feature one specific highlight or one monument for which it's internationally recognized – rather, it is sprinkled with many sites that boast importance for different reasons. .
We are confident you will find Buenos Aires a wonderful place to learn - and live - the Spanish language!