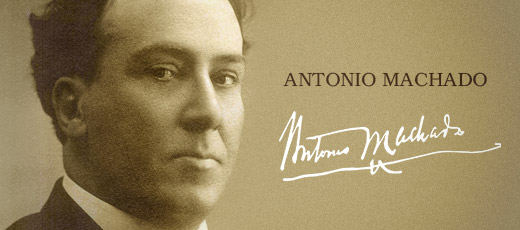 Antonio Machado. The Spanish poet's 'Proverbios y cantares' is literary heritage shared by all Spaniards and even all Spanish speakers.
"Ya hay un español que quiere / vivir y a vivir empieza, / entre una España que muere / y otra España que bosteza.
Españolito que vienes / al mundo te guarde Dios./ una de las dos Españas / ha de helarte el corazón."  
Campos de Castilla, Proverbios y cantares, LIII.
In Spanish literature we often find groupings of authors who are associated with a specific literary movement or historic circumstance. When Spain lost its last colony in 1898, the country not only experienced an economic and social crisis, but also a worsening ethical crisis that began to shake up relations between Catholics, Agnostics, pro-European liberals, and conservative traditionalists. In this context, a group of mostly prose writers emerged who had concerns about the future and a desire to educate the people to avoid repeating the same historical errors that had produced the crisis. This group came to be known as Generación del 98, and Antonio Machado was one of its members.
He was born in 1875 to Antonio Machado Álvarez, a lawyer, journalist, and folklorist, and to Ana Ruiz, who named their son after his father. The boy's paternal grandfather was the president of the University of Seville and a defender of a Spanish education project called the Institución Libre de Enseñanza (ILE, The Free Educational Institution), which followed Spanish krausism and promoted education free of any ties to religion or ideology related to the established political power.
This liberal republican atmosphere greatly influenced a young Antonio. When he was 8 years old he moved with his family to Madrid, where he attended ILE classes. He had not yet finished high school, after spending several not so brilliant years studying, when at just 21 his family fell into extreme poverty following the deaths of the head of the household and the grandfather. Antonio and his older brother Manuel immersed themselves in bohemia Madrid of the time, where they made contact with the entertainment world. In 1899 Antonio travelled to Paris, where he worked at the Garnier publishing house, he discovered Verlaine, and even met Oscar Wilde. After this short period in Paris he moved back to Madrid and became politically active. In 1902 he published Soledades, his first poetic work. Five years later he produced Soledades. Galerías. Otras poemas, after passing a public examination for a position as a French teacher in a high school. Antonio settled in the Castilian town of Soria where he began his teaching career and created one of his most known works: Campos de Castilla.
In Soria, Machado also fell in love with Leonor Izquierdo, the daughter of the owners of the guesthouse in which he lived. The couple married when he was 34 and she was just 15. Leonor unfortunately died three years later, which threw Antonio into a deep depression. As an attempt to escape the pain of his loss, he relocated to the city of Baez and remained there until 1919. That is when he relocated to Segovia, where he delved back into the world of literature and literary gatherings. He published a new extended version of Soledades, galerías y otros poemas, and in 1924 he produced Nuevas canciones. Three years later he was selected as a member of the Royal Spanish Academy but he never ending up taking up the post. When the Spanish Republic was proclaimed on April 14, 1931, Machado helped hoist the tri-color Republican flag at Segovia's city hall.
He published an edition of his Poesías completas in 1933, followed by the long poem La tierra de Alvargonzález. The Republican government transferred him to Madrid and placed him ahead of the "reorganization of popular theater". During these years, Machado concentrated more on his writing and defining his two alter egos: Juan de Mairena and Abel Martín.
When the Civil War erupted his family was evacuated to Valencia. Despite having to experience tough times that affected his health, the poet published his La Guerra. Illustrated by his brother José, the work was included in the 2nd International Conference of Writers for the Defense of Culture, which was organized by the Alliance of Anti-fascist Intellectuals. In 1937, he also published his eulogy to the executed Federico García Lorca entitled: El crimen fue en Granada. The next year he was transferred to Barcelona, where he remained for 6 months.
Before Barcelona's imminent fall, the poet, whose health was failing and his mother, whose aged was advanced, both joined a group of intellectuals to leave the city in a car and drive to France to escape Francoist troops. A few kilometers from the border, they had to abandon the vehicle and cross to the other side. They got over, but not without problems, reaching the village of Cerbère. From there they took a train that left them in Coillure, where they waited for help that never arrived. Antonio died on February 22, 1939. His mother, who had asserted several times "I'm willing to live as long as my son Antonio lives", died three days later. They were buried together in a niche provided by a Coillure resident.
In 1941, two years after his death, Antonio Machado was expelled from the corps of high school teachers by the Francoist government. It wasn't until 1981 that by an order from the democratic government he was recognized again as a Teacher of the Cervantes Institute of Madrid. The Catalan singer Joan Manuel Serrat's album Dedicado a Antonio Machado, poeta helped popularize the poet and his work.
Antonio Machado's work seems quite easy, but his polished style is the product of patient determination, a profound connection to popular philosophy, and common sense. His Proverbios y cantares is literary heritage shared by all Spaniards and even all Spanish speakers.