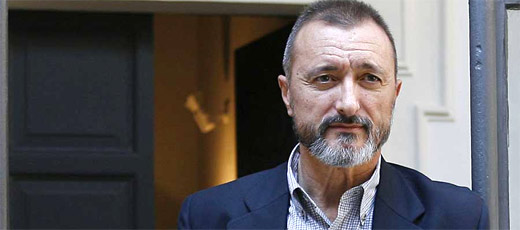 Arturo Perez Reverte. Information about the famous Spanish writer & journalist Arturo Perez Reverte and his novels: Territorio Comanche & Capitan Alatriste.
This member of the Real Academia de la Lengua Española (Spanish Royal Language Academy or RAE) and lifetime holder of the uppercase letter "T" in this institution has been a long path for Arturo Perez-Reverte both as a writer and war correspondent as well as a winner of several prestigious awards.
Born in 1951 on the shores of the Mediterranean Sea in Cartagena, Spain (the sea would became an influential source in his writings) he would go on to receive a degree in journalism. His professional career began as a war correspondent, first as a journalist for the now extinct newspaper Pueblo and then for Radio Televisión Española (RTVE), the Spanish state-owned broadcaster.
A man of action and an adventurer, Arturo Perez-Reverte has covered the most important world conflicts in the last thirty years of the XX century, from Sahara to Bosnia, Lebanon, Iran, Irak, Nicaragua, etc. He captured life as a war correspondent in the semi-autobiographical yet fictional book titled Territorio Comanche (2001), where he describes with great realism and crudeness the similarities between the wars he has witnessed along with other journalists, and in which the horror of violence never ceases around the world. All of these experiences have forged in him a cynical and ironic character which lacks faith in human beings. He has successfully transferred these same traits to the characters in his novels.
1993, Pérez-Reverte was the presenter of a show, Código Uno (a talk show focusing on unsolved crimes), he stated that it was nothing but trash television and expressed highly critical remarks of TVE and its overly politicized management.  These remarks soon lead to disciplinary action on behalf of management by linking Pérez Reverte to the falsifying expense reports while working abroad as a war correspondent. Because of this, he decided to leave his journalistic career and dedicate himself to writing full time in 1994. He had already published his first big success in 1988 titled El Maestro de Esgrima, which was later adapted for the big screen in 1992.
His success has been unstoppable and now dedicates his time almost entirely to writing adventure novels. Some of his works include titles such as El Club Dumas (1993), adapted to film by Roman Polanski under the title The Ninth Gate with Johnny Depp in the role of book detective Dean Corse; La Sombra del Águila (1993), La Piel del Tambor (1995), La Carta Esférica (2000) also taken to the big screen in 2007, and La Reina del Sur (2002) among others.
As a man worried by the reality of Spain, he created an adventure character to expose young Spaniards to the Spanish Golden Age. This character, Capitán Alatriste, is a veteran of the many wars Spain had intervened in during the XVII century. As a fine and troublesome swordsman for hire, he takes readers through journeys with historical personalities during the decadence of the Spanish Empire. Alatriste is Pérez's alter ego and is also the main character in 6 novels:
El Capitán Alatriste (1996)
Limpieza de Sangre (1997)
El Sol de Breda (1998)
El Oro del Rey (2000)
El Caballero del Jubón Amarillo (2003)
Corsarios de Levante (2006)
El pintor de batallas (2006)
Un día de cólera, (2007)
Ojos azules, (2009)
El asedio (2010)
El tango de la guardia vieja (2012)
El francotirador paciente (2013)
Pérez-Reverte is also a prodigious creator of screenplays and many of his works have been reproduced in comic form. Since 1991, Pérez-Reverte is a columnist writer in the Sunday supplement of El Semanal, where he ironically and scathingly describes the world that surrounds him and is one of the most read columnist in the Spanish press. He has compiled his Sunday articles in 2 books: Patente de Corso (1998) and Con Ánimo de Ofender (2001). He has also won national and international prizes that have helped him sell his novels around the world.