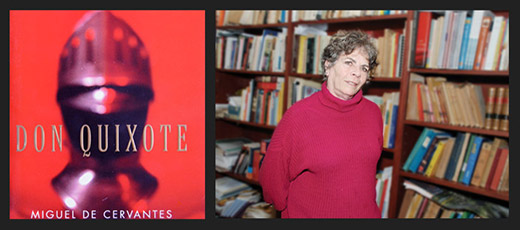 Edith Grossman. The translator from Philadelphia has been known to hang out with celebrated Spanish-language authors like Gabriel García Márquez.
Few literary translators in America can carve out stable careers. In a land where just 3% of the books published are translations and only about 10 people can make a living translating lit (that according to the spokesperson for the American Translators Association), Edith Grossman is about as successful as they come. She's been known to hang out with celebrated Spanish-language authors like Carlos Fuentes and the late Gabriel García Márquez; she's crafted brilliant English translations of some of their best works and earned their esteemed praise. García Márquez once remarked that he preferred reading the English version of his own work over the original. Carlos Fuentes reviewed Grossman's English rendering of Don Quixote in the New York Times and called it "truly masterly" (the review itself was actually a Grossman translation).
The admiration is mutual. She described García Márquez's work in an interview with the Washington Post by saying "Everything he wrote was gold".
Grossman had done professional translation work from Spanish to English since the 1960's, but she got her big break in the late 1980's when she  landed perhaps one of the greatest gigs a Spanish language translator could imagine; to translate Love in the Time of Cholera. Shortly afterward she did what few Americans can –she left her steady job to translate full time. Since then, she's done 7 novels by García Márquez, 6 books by Nobel Prize laureate Mario Vargas Llosa, 6 by Mayra Montero, and 3 by Álvaro Mutis.
Despite her outspoken disappointment by an overall lack of American interest in translated literature, her translation of the most translated book in history (after The Bible) Don Quixote garnered plenty of literary buzz when it was published in 2003. It goes to show the level she's reached in her field working with a tough crowd of readers. In her book Why Translation Matters, she reveals the difficulties of the field before going on to revel in its joys with poignant reflections such as: "translation expands and deepens our world, our consciousness, in countless indescribable ways".
This translator from Philadelphia, described by lit critic Harold Bloom as "the Glenn Gould of translators", didn't grow up in a Spanish speaking family. She took an interest in the language in high school, mainly it seems because her favorite teacher was her Spanish teacher.
Tireless and passionate about her work, luckily for her devoted admirers and all the would-be Edith Grossmans out there, she's also talkative about the approach to her art that she's developed over her decades long career. She drops insightful pearls of translation wisdom in interviews, speeches and books.  She often talks about fidelity, insisting that this is "the noble purpose, the utopian ideal of the literary translator […] faithfulness has little to do with what is called literal meaning". She also explains "when I translate a book written in Spanish, I'm actually writing another book in English" and on another occasion "I see my work as translating meaning, not words". She reminds us that there is no magic formula for translating, stating that "general rules cannot be applied in an invariable way" and that "solutions to the most interesting problems in translation ultimately depend on the translator's intuition". 
Grossman's own story and her writing on what it's like being a literary translator, together serve up a bittersweet fusion of hopeful inspiration along with a raw, no-holds-barred glimpse into the discouraging reality of the rather unprofitable business. She describes most literary translators as "poorly paid and with no job security", folks who "do not look for fame or fortune but do their work out of love for literature". A question of values and a hazy glimmer of hope for relative rock star status within modest but meritorious realms all seem to linger in the air for young people who hear their true calling as translators of literature. Fortunately for us, Edith Grossman followed her passion.