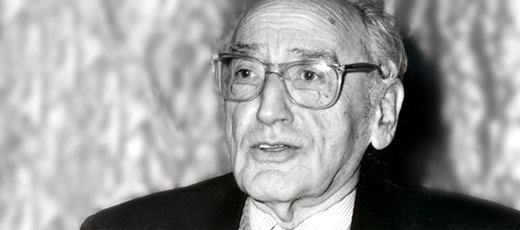 Jorge Guillén Álvarez was born on January 18, 1893 in Valladolid and was a Spanish poet, member of the Generation of '27, as well as a university teacher.
Jorge Guillén Álverez was born on January 18, 1893 in Valladolid, Spain when the city's region was called Castilla la Vieja. Guillén would go on to become one of the most characteristic members of the group of poets known as the Generación del 27, which also included some of the most prominent figures in Spanish literature such as Pedro Salinas, Federico Garcia Lorca, Rafael Alberti and Luis Cernuda.
A young Jorge went to grammar school and high school in his home town of Valladolid. Once he finished, he traveled to Madrid where he studied philosophy and literature. Here, he stayed in the Residencia de Estudiantes (student residency), a place brimming with cultural connotations, an important meeting place for some of the period's most brilliant intellectuals and a center for cultural evolution in early 20th century Spain. Although Guillén began his studies in Madrid, he finished his degree at the University of Granada.
From 1917 to 1923, he was a lector at the Sorbonne (Paris), just as his friend and fellow poet Pedro Salinas had been. He travelled extensively throughout Europe during this period, and it was on one of these trips that he met Germaine Cahen, who he married in 1921. The collection of 800 letters sent between the peot and Cahen is a lyrical work of sublime beauty.
In 1924 he doctored at the University of Madrid and wrote his thesis on the poet that perhaps most influenced the Generación del 27: Luis de Gongora.
Between 1925 and 1929, he was professor of literature at the University of Murcia and he founded Verso y Prosa, a publication with a high level of literary content.
During his time as a lector in Paris, he had begun writing his first collection of poems called Cántico. At this same time he published sporadic verses and some literary critiques in contemporary periodicals. The first edition of Cántico was published in 1929 in the publication Revista de Occidente.
Continuing his journey as a poet-professor, between 1929 and 1931 he was a lector at Oxford, and afterward he joined the faculty of professors at the University of Seville.
The Spanish Civil War erupted when Guillen was in Valladolid. After being briefly imprisoned, he decided to return to his professorship in Seville. In 1938 he decided to take up exile in North America, where he worked as a professor at different schools such as Middlebury University, McGill University (in French-speaking Canada) and later at Wellesley College, where he remained until the year his wife died in 1947, an event that greatly affected him. Ten years later he traveled to Italy where he married his second wife Irene Mochi-Sismondi, with whom he moved to Malaga. He continued working sporadically as a professor at Harvard and at the University of Puerto Rico until 1970, when he suffered an accident that kept him from teaching. He received the Cervantes Award in 1976 in the midst of early post-francoist Spanish democracy. The Autonomous Community of Andalusia officially named him a favorite son in 1983, just a year before his death. His grave site can be visited in the Anglican Cemetery of Malaga.
Jorge Guillen's poetry can be classified as "optimism poetry". At the poet's request, his first work, Cántico, grew in length in different editions of the book to balance the composition of his work as a whole. He would do the same later with poems collected under the generic name of Aire nuestro (our air). A condensed style, the search for the essence of the word, and a sense of peace characterize Cántico. After his experience during the Civil War, his following work entitled Clamor centered on temporality and moved away from the cheery optimism of his first book; we no longer see excited odes to celestial harmony, although the need to feel alive dominates the entire collection. An example of this vision is the phrase "el mundo de los hombres está mal hecho" (the world of men is poorly made) in contrast to Cántico's motto "el mundo está bien hecho" (the world is well made).
In 1967 he published Homenaje, which is a gallery of apologies from personalities from science and popular culture. The techniques he most uses for this book are monologue and portraiture.
In 1968 he published Aire Nuestro, which included all of the poems he had written up to that time. The poet-professor, whose ideal had always been to create pure poetry, later published Y otros poemas (and other poems, 1973), and Final (1982), two works which firmly placed him as a prominent figure in the tradition of poetry in Spanish.