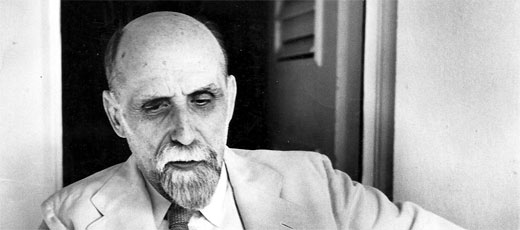 Juan Ramon Jimenez biography & work. Find out information about the winner of the Nobel Prize in Literature in 1956.
Juan Ramón Jiménez was a Spanish poet and novelist, tormented by themes of the ocean, nudity, depression, and death. Winner of the 1956 Nobel Prize in Literature Jiménez portrayed themes of romance and dreamy love in his early works while his second period focused on the beauty of the world and "naked" poetry.
Born in Moguer, Huelva of Andalucia, on December 24th, 1881 Jiménez had constant contact with the sea, acting as his muse, water was ever-present in his work.
During his youth he attended a Jesuit academy in Cadiz (1891-1896) before studying at the University of Seville. At Seville, Jiménez studied law and simultaneously developed an interest in art and painting.
At age 19 he moved to Madrid and forgot about law and concentrated full time on developing his poetry and writing style. In the capital city, Jiménez met Rubén Dario, a Nicaraguan poet, who would become his lifelong mentor and friend. Jiménez drafted many early poems with romantic themes published around 1900 in one of his fist poetry volumes titled Almas de Violeta (Souls of Violet).
When Mr. Jiménez´s father died in 1905, the poet returned to his home town of Moguer and spent 6 years writing and battling depression. The poet was said to be very sensitive, emotional, and susceptible to illness. Elejilas, Baladas de primavera, and La soledad Sonora, were produced during his time back home and reflected is dejected state. Pale, neutral colors dominated his work, instead of his usual vibrant greens and yellows. It was also during this time that Jiménez created his most popular work, Platero y yo, poetry that became a classic, especially for children.
After Platero y yo, Jiménez published 9 volumes of poetry. It´s said his style became more confident at this time, in his mid to late 20s, moving a way from structured verse.
In 1916 Jiménez traveled to the United States, really, he chased after Zenobia Camprubí to marry her. Camprubí was a Spanish writer and poet, born in Barcelona. She is most noted for her translated works of Rabindranath Tagore, an influential Bengali author, also a winner of Nobel Prize in Literature (1913). On the voyage across the Atlantic Jiménez put together Diaro de un poeta reciencasado, a work that focuses on symbols of the ocean and the sky.
Over the next fifteen years, back in Madrid, Juan Ramón Jiménez faded from public life to concentrate on poetry. Four major works come from this period of an "intellectual tone, stripped of verbal music," Eternidades (1917), Piedra y cielo (1918), Poesía (1923), and Belleza (1923).
When the Spanish Civil War erupted, Jiménez was appointed as the cultural attaché to the United States by the Republican government. From 1939, he and his wife remained abroad teaching and lecturing at universities in New York and Maryland before settling in San Juan, Puerto Rico.
In 1956 Mr. Juan Ramón Jiménez was award the Nobel Prize in Literature "for his lyrical poetry, which in Spanish language constitutes an example of high spirit and artistical purity". Camprubí died two days later. Jiménez never fully recovered from the loss of his wife and died two years later on May 29th, 1958 in San Juan.