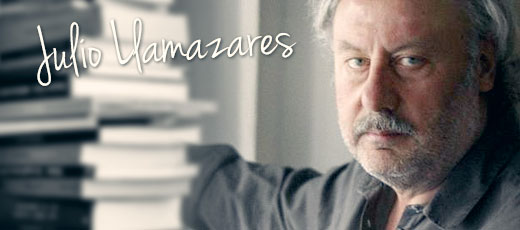 Julio Llamazares. The Spanish author is considered a member of the Generación de los 80, and he is most recognized for his novels.
Yo vengo de una raza de pastores que perdió su libertad
cuando perdió sus ganados y sus pastos.
Durante mucho tiempo mis antepasados cuidaron sus
rebaños en la región donde se espesan el silencio y la retama.
Y no tuvieron otro dios que su existencia ni otra memoria
que el olvido.
I come from a race of herdsmen who lost their freedom / when they lost his cattle and pastures. 
For a long time my ancestors looked after their /herds in the region where silence and broom thicken. 
And they did not have any god except their existence or other memory / than oblivion.
Julio Llamazares, "La lentitud de los bueyes" (1979)
Julio Alonso Llamazares was born in 1955 in the small town of Vegmián in the province of Leon, where his father was an elementary school teacher. Shortly after Julio's birth, the town was submerged beneath the waters of the Porma River water reservoir. The family moved to Olleros de Sabero, an area with coal resources. The landscape and the people of this area of Leon would make an indelible impact on the young Julio, later influencing many of his literary works.
Although he studied law and journalism, he spent little time practicing as a lawyer, quickly switching paths to pursue a career in journalism. He moved to Madrid where he worked in written, radio, and even television media.
Julio Llamazares is considered a member of the Generación de los 80, and he is most recognized for his novels, although he has also written poetry, essays, travel books, and screenplays.
Llamazares' first literary efforts were in poetry. In 1978, he won the Antonio Gonzalez de Lama Prize in his native region Leon. In 1982 he was awarded again for his writing, this time with the prestigious Jorge Guillén award, for his book of poems Memoria de la nieve.
He went on to write more books of poetry and one of his best known essays: El entierro de Genarín: Evangelio apócrifo del último heterodoxo español, about  a historical figure of the city of Leon related to Semana Santa (Holy Week) traditions.
In 1985 he published his first novel, Luna de lobos, the story of a group of Republicans who resist the Franco regime in the mountains of Leon. The book was made into a movie two years later, Llamazares himself wrote the screenplay. The rawness of the topic and the violent nature of the story do not hinder the beautiful Spanish landscapes described from emerging as one of the main characters in the story, which the author treats with wonderful descriptive skill.
La lluvia amarilla (1988) tells the story of the last resident of an abandoned Aragon town. The novel offers a perfect example of Llamazares' ability to explore the inner-world of a character quite aware that his destiny, like that of the town itself and even his memories, is to be consumed by the moss that grows to cover everything.
He later wrote Escenas de cine mudo, El cielo de Madrid, and Las lágrimas de San Lorenzo.
Julio Llamazares also wrote two travel books, El río del olvido and Cuaderno del Duero, which guide readers on an introspective look at his childhood. His Tràs-os-montes offers prose crafted with accuracy and certainty that nears surgical levels. Las rosas de piedra offers descriptive peeks at Spanish cathedrals.
He has also published, and continues to publish, opinion articles in the Spanish newspaper El País. These are collected in "En Babia, Nadie escucha", "Los viajeros de Madrid", "Modernos y elegantes", and "Entre perro y lobo".
Journalist, screenwriter, traveler, or poet, Julio Llamazares occupies a special place in today's Spanish language literature. His effective descriptive abilities and mastery of language have helped make his works required reading for school students, and his novels have received all the success that literary achievements can possibly earn in today's world of screens and entertainment technology.