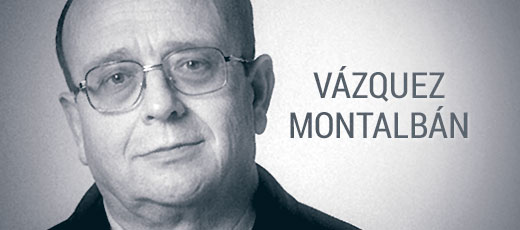 Manuel Vazquez Montalban . His anti-hero served as inspiration for Salvo Montalbano, a fictitious cop character created by Andrea Camilleri.
Just two and a half months after the end of the Spanish Civil War, a child was born in Barcelona to a mother who was a dressmaker and a father who was a member of the PSUC (Unified Socialist Party of Catalonia). The father, who had been convicted of fratricide, was released from prison five years after the boy's birth, when the two finally met for the first time. The boy's name was Manuel Vázquez Montalbán. As an adult, he described himself as a journalist, a novel writer, a poet, an essay writer, an anthologist, a prologue writer, a comedian, a critique, a cook, a fan of Football Club Barcelona, and generally prolific". He would remain faithful to that self-description despite changes in tone and genre during his varied career.
This hyper-active young man studied journalism, philosophy, and letters in Barcelona. In 1962, he was arrested for his political ideas and activities (which were illegal in Francoist Spain) and sentenced to three years in prison, where he wrote his first book: Informe sobre la información (1963, Report about the information). This first work foreshadowed the personal and critical approach to writing that Montalbán would go on to develop throughout his life, which placed a special focus on the Spanish experience of his time.
After his release from prison, he began working as a journalist for the publication Triunfo, one of the most prestigious among the opposition-movement journals during the Franco dictatorship in the 60's and 70's. Later, he also collaborated with the satirical magazine Por Favor, and after the death of the dictator, he worked with Interviú and the newspaper El Pais.
His first collection of poems was published in 1967 under the title Una educación sentimental. As an author so well known for his activism however, he was much more associated with political and social writing, and his poetry never occupied a place of privilege within his body of work. Memoria y deseo includes a complete collection of his poems from 1967 to 2003.
In 1969 he published his first novel, which appeared together with a series of stories under the title Recordando a Dardé (Remembering Dardé). Three years later, an event occurred that for many marked a point of no return in his work: he wrote Yo maté a Kennedy (I killed Kennedy), the first crime novel in which the character Detective Pepe Carvalho appears. Aseries of 18 more titles featuring the protagonist would follow. These novels always take place during the time Montalbán was writing them, offering a candid look at the final days of Spain's long Francoist period, the transition to democracy and its evolution until the year 2000. The series' anti-hero (Carvalho) overcomes his attacks of rage by burning books from the library (a habit that Montalbán, the alter ego of the detective, uses to offer scathing literary critique) and he relaxes by preparing delicious meals in the kitchen of his home for friends. It's not surprising that 10 volumes of Carvalho gastronomico (Carvalho cooking) have been published which include recipes that appear in his novels.
The character served as inspiration for Salvo Montalbano, a fictitious cop character created by Andrea Camilleri.
In 1979, Montalbán won the prestigious award the Premio Planeta with Los mares del sur, which allowed him to "buy time" to focus on other matters of interest, such as the history of his time. In 1990, he published Galindez, a novel about the representative of the Basque government who was exiled in the 50's and later kidnapped, tortured and killed in the Dominican Republic by dictator Trujillo. The novel, which takes place from the 50's to the 90's, offers a candid peek at many lesser-known historic events.
Montalbán's monumental book Autobiografía del general Franco (Autobiography of General Franco) is an ironic-humorous work of fiction about a writer with military communist leanings who writes a literary biography of the dictator who imprisoned his father and himself.
Manuel Vázquez Montalbán stayed true to his self description mentioned above. He produced endless essays, articles, compilations, and anthologies. He also participated in courses and conferences around the world. While on a layover in Bangkok during a flight from Australia to Spain his heart, which had already undergone a quadruple bypass, decided to come to a permanent stop. The year was 2003.
The ashes of this gourmet-novelist were spread, by his own wishes, over Cala Montjoi, a scenic cove in Gerona, Spain. The beach here is the location of El Bulli, a restaurant that had earned great prestige before it closed in 2011.