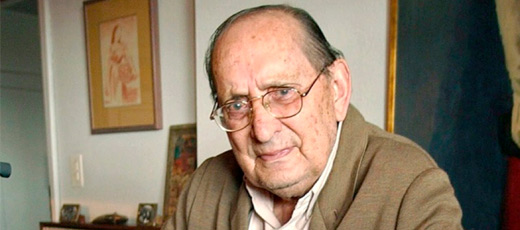 Miguel Delibes. Find out information about Miguel Delibes, one of the most famous post Civil War Spanish writers and master of the Spanish language.
Miguel Delibes is without doubt, one of the most important post Civil War Spanish writers. Born in Valladolid October 17th, 1920, he died in the same city March 12th, 2010. He was a member of the Spanish Royal Academy; he occupied the "e" seat since February 21st, 1973.
Delibes was always noted for his great humanity and attachment to his native Castilla. Despite having lived his life in the largest city in Castilla, Valladolid, he felt a great attraction to rural areas, especially the countryside. One of his favorite hobbies was always hunting, which he paid homage to in books like: Diario de un cazador (1955). He won the Premio Nacional for Literature for, Dos días de caza (1988), and 25 años de escopeta y pluma (1995), etc.
His career in literature began at the newspaper El Norte de Castilla, as a cartoonist, editor, and later director, a period which clashed with Franco censorship.
Miguel Delibes published his first novel in 1948: La Sombra del Ciprés es Alargada. This book contained his pessimistic existentialist character that would reappear throughout his literary career. This novel also was the winner of one of the most important awards in Spanish literature: the Nadal prize.
Delibes - Writer of Postwar Literature
In 1950 Delibes published El Camino. This work established him as one of the most important writers of postwar literature. The story tells of the discovery of life by a child wrought with anxiety over the change in life that many faced: to leave the fields to go live in the city.
It is fair to say that Delibes had his literary heyday beginning in 1960. From this period on he produced Las Ratas (1962) and Cinco Horas con Mario (1964). The latter is a monologue from the perspective of a woman who watches the corpse of her husband in which she recalls the memories of the life they shared.
In the 1970s he published two important works: El Príncipe Destronado, which narrates the life of a child within a large family. The book is set in a Spain that suffers the changes and decline of the Franco regime. His other work is El Disputado Voto del Senor Cayo, set in the time of Spanish democracy reborn.
In subsequent years Mr. Delibes continued publishing until 1998 when he was diagnosed with colon cancer. His artistic production fell sharply though he managed to continue to publish. He was often seen walking through the town of Valladolid. He entertained friends and reporters at his home despite his weakened condition, emphasizing his great humanity.
Delibes has been one of the most prolific Spanish writers of the twentieth century with 65 works to his credit. He has also been awarded 22 times. And without a doubt, he has been one of the masters of the Spanish language.