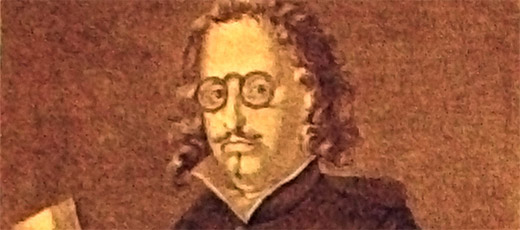 Find out information about this famous Spanish poet and novelist during Spain´s Golden Age - Francisco de Quevedo y Villegas.
Francisco Gomez de Quevedo y Villegas, the wit, as he is fondly referred to was a premiere poet, satirist, and novelist during Spain´s Golden Age. Premiere in the sense that the man was a gifted individual with true God-given talent, although his energy was misplaced over his career and his talent landed him in as much trouble as he had popularity.
Nonetheless, Quevedo did publish fantastically satirical works (post-mortem) during the Golden Age. For a period of about 100 years from 1580-1680 during the Gold Age artistic and literary brilliance blazed through the Iberian Peninsula. Velazquez painted his Las Meninas, Cervantes published don Quijote de la Mancha and theatre from playwrights like Calderon and Lope de Vega contributed a third aspect of artistic expression.
Quevedo wrote in Baroque Spanish poetry utilizing witty conceits and elaborate metaphors. In fact Quevedo resisted a career in literature, opting for politics, as we will see this will prove a misguided effort. The flowery, often vague style of fellow contemporaries of the Golden Age made him skeptical of literature in general. Quevedo wrote in a concise, often harsh, clean style.
Born into wealth and political prowess through his parents in 1580, Quevedo was exposed to literature and high standards of education early in life. At 16 years old Quevedo entered the University of Alcalá, near Madrid, only to transfer and complete 10 years of study at the University of Valladolid, north of Salamanca. Upon graduation Quevedo had mastered English, French, Italian, Latin and his native Spanish. At this point he also had a reputation for a sharp tongue combined with powerful literary insight. He had also published several poems and peaked the interest of Miguel de Cervantes and Lope de Vega whom encouraged him to write more poetry. Quevedo appreciated the praise but was intent on a life of politics and had dreams of becoming Spanish nobility.
In 1613, after a public and devastating failed attempt by the Duke de Osuna to aggressively take over the politics of Venice, with Quevedo has his top aide, Quevedo then became disillusioned with the political world. Before the scandal broke, the Spanish crown had been silently backing the Duke´s actions. When the conspiracy to "sac" Venice surfaced, the Spanish government did everything it could to distance itself from the entanglement and Quevedo. Quevedo then committed the rest of his life to writing as his career in politics was effectively over.
Still stinging from his political trouble, Quevedo pointed his high powered criticism and satire towards the Spanish way of life and Luis de Gongora. Gongora, of Córdoba, wrote in a style called culteranismo or Gongorism, a movement unique to the Spanish Renaissance. The syntax and tone were reminiscent of ancient Latin and Spanish poetry.
In direct contrast to Gongora, Quevedo wrote in a style called conceptismo - witty, ornate, full of carefully conceived metaphors. Quevedo created some of his best work during the literary quarrel: Los Sueños (Dreams), and more notably hi novel Historia de la vida del Buscón llamado don Pablos (The Life Story of the Sharper called Don Pablos); a satirical work that depicted the seedy underbelly of Spanish city life.
Later in life, 1641, still feeling the pain of a very public political defeat, Quevedo blasted the Spanish monarchy through verse - during the reign of King Philip IV. This stunt landed him under house arrest - the poet died in 1645, his health had suffered considerably from his incarceration.
Quevedo is regarded as one of the greatest poets during Spain's most prominent literary age.