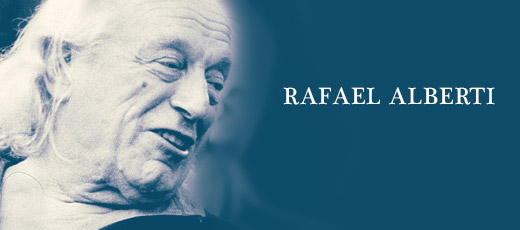 Rafael Alberti. With his first poetry book he made a grand entrance through the main gates of the Mount Olympus of Spanish poetry.
Speaking about Spanish poetry inevitably leads us to look back at a group of writers who met to commemorate the third centenary of the death of Luis de Góngora, one of the most celebrated poets of the Spanish Golden Age. This distinguished group of artists is known as the Generation of '27 (la Generación del 27) and it includes great Spanish literary figures such as Dámaso Alonso, Gerardo Diego, Luis Cernuda, Jorge Guillén, Pedro Salinas, Federico García Lorca and Vicente Aleixandre.
In this list of poets one name is missing: Rafael Alberti Merello. He was born in El Puerto de Santa María at the end of 1902 into a multinational family, since his paternal as well as maternal grandfathers were originally from Italy, and one of his grandmothers was Irish. The Albertí family enrolled the young Rafael in a Jesuit college, whose discipline posed an insurmountable barrier for the child.  He was expelled for his poor behavior when he was 14. He never finished his High school diploma.
On moving to Madrid with his family, Rafael directed all his energy towards painting, which he had a real gift for, so much so that he managed to get an exhibition at Madrid´s Ateneo Art Gallery when he was 17 years old. A year later, his father´s death led him to write his first verses and his stay in Sierra de Guadarrama to cure his lung disease sowed the seed for what would become his first poetry book: Sailor on land (Marinero en tierra). After his lung infection improved and on returning to Madrid, he got to know and became friends with Federico García Lorca, Pedro Salinas, Jorge Guillén, Vicente Aleixandre and other writers who would become companions of the Generation 27 in the cultural center "Residencia de Estudiantes".
He was an equally gifted at poetry as well as at painting. Alberti´s case is an example of the expression to be as easy as pie: with his first poetry book he won the National Poetry Prize in 1925 and he made a grand entrance through the main gates of the Mount Olympus of Spanish poetry.
After this work which can be categorized as populist, the young Rafael went through a Gongoristic period with Quicklime and Plainsong (Cal and Canto), which he quickly moved on from to focus on one of his most important creations: Concerning the Angels (Sobre los ángeles), at which point he entered into the world of surrealism. Other titles produced during this period include Sermons and mansions (Sermones y moradas) and I was a fool and what I have seen has made me two fools (Yo era un tonto y lo que he visto me ha hecho dos tontos).
During this same period, Alberti began his life of political activism, campaigning against Primo de Rivera´s dictatorship, supporting the arrival of the Second Republic and finally, joining the Spanish Communist Party. During this period he got to know María Teresa León, who would become his comrade and partner until his death. These republican years were marked by his active involvement with the party, anti-facist propaganda and meetings and frantic activity. Demonstrating an almost frenzied creative ability, he published Slogans (Consignas), A Spectre Is Haunting Europe(Un fantasma recorre Europa) and other militant poems in the volume The Poet in the Street (El poeta en la calle).
Following the defeat of the Republic and the end of the war, Rafael and Maria Teresa took up exile, first, in Paris which they would be forced to leave when Pétain´s government withdrew their work permits after deciding that communism was dangerous. With the German invasion looming, they left for Argentina, where they would live in the capital for several years.  During their journey through America they would also visit Chile, where they would become friends with Pablo Neruda, and they would finally settle down in Rome, the poet´s second home.  As a result of this exile and with nostalgia as a driving force, he would publish Between the Carnation and the Sword (Entre el clavel y la espada), Ballads and Songs of the Paraná (Baladas y canciones del Paraná), Open at all Hours ( Abierto a todas horas) and Rome, danger for walkers ( Roma, peligro para caminantes).
In 1977, after Franco´s death, Alberti was elected as a Member of Parliament in the constituent Congress of the Spanish parliament on the Communist Party Ticket. His political career was short-lived and he returned to Rome to continue dedicating himself to poetry and painting, but he could not do it full time because trips around Spain, recitals, lectures and gatherings took up a lot of his time.
In 1983 he was awarded the Cervantes Prize (el Premio Cervantes). It is worth adding that Rafael Alberti refused the Príncipe de Asturias prize because of his republican ideas.  He also received the Lenin Peace Prize in 1969, the Spanish National Theatre Prize in 1980 and the Roma Literature Prize in 1991.
Throughout his life he compiled his memoirs in three volumes which, published under the one title The Lost Grove (La arboleda perdida), represent an account of his life from 1902 to 1996.
On 28th October 1999 he died in El Puerto de Santa María, his native town. His ashes were scattered in the sea which he talked about missing so much in his first work and which he continually remembered throughout his life.