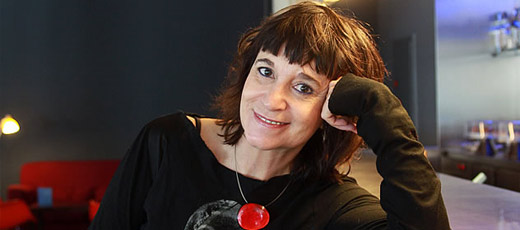 The El País journalist Rosa Montero talks about her career during one of Spain's most turbulent periods and how she charmed the fascists.Read more
Rosa Montero Journalist​
The El País journalist Rosa Montero talks about her career during one of Spain's most turbulent periods and how she charmed the fascists. To be a journalist 30 years ago in Spain was to be right on the spot for one of the biggest stories in its history, and Rosa Montero was there, finding her voice as part of the progressive movement of the 1970s. "During Franco's regime there was a kind of dictated public language and dialogue that people couldn't get away from," she remembers. "When I started out as a young journalist in 1969 I felt a real need to go back and use words that had some kind of real meaning for daily life".
To support herself she freelanced for a number of magazines and newspapers in her home town of Madrid, taking whatever job came her way. "In 1969 it wasn't uncommon to have doors closed to you because there were many, many places then that simply and legally refused to hire women. So you held on to whatever writing job you could get. They paid us a mere pittance and we worked hard for every peseta we earned. But two duros [five-peseta coins] went a long way in our uncouth and simple lifestyles," she adds, laughing.
The newspaper El País was launched in May 1976 and when the Sunday supplement followed towards the end of that year, Rosa's long-standing relationship with the national press began. "We always had the feeling that we were writing history," she says. "We were holding up this mirror to what was going on around us. They were brilliant and fascinating years. People writing for the paper became known very quickly and I was one of them. It makes me proud to be able to say I am a good journalist".
Rosa Montero Novelist
In addition to being a journalist of great prestige, spending two years as the director of the weekly magazine El Pais, and time as a collaborator with theatre companies in Madrid, Rosa Montero has also published the following novels, listed in chronological order:
Crónica del desamor / Chronical of Enmity (1979)
La función Delta / The Delta Function (1981)
Te trataré como a una reina / I'll Treat You Like a Queen (1983)
Amado Amo / My Beloved Boss (1988)
Temblor / Tremor (1990)
Bella y Oscura / Beautiful and Dark (1993)
La hija del caníbal / The Cannibal's Daughter (for which she won the Spring Novel Prize in 1997)
El Corazon del Tártaro / The Heart of the Tartar (2001)
La loca de la casa / The Lunatic of the House (2003), winner of the 2004 Qué Leer Award for best book of the year, the Grinzane Cavour Award for best foreign book published in Italy in 2005 and the 2006 Roman Primeur Award (France).
Historia del rey transparente / Story of the Transparent King (2005), winner of the 2005 Qué Leer Award for best book of the year and the 2007 Mandarache Award
Instrucciones para salvar el mundo / Instructions to Save the World (2008)
Lagrimas en la lluvia / Tears in Rain (2011)
She also published a number of other works including the series of stories entitled Amantes y enemigos / Lovers and Friends, which earned her the Círculo de Críticos Award in Chile (1999), two biographical essays: Historias de mujeres / Stories of Women and Pasiones / Passions, in addition to children's stories, anthologies, interviews and articles. Her work has been translated into twenty different languages and the University of Puerto Rico awarded her an honorary degree. One of the awards that she most values is the lifetime achievement award she received from the Press Association of Madrid.