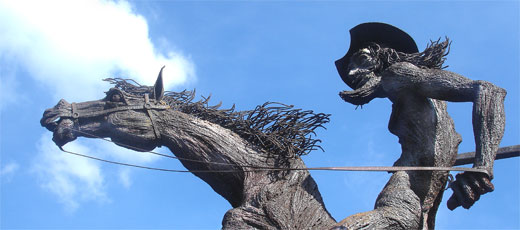 Versions of Don Quixote. Cervantes' novel Don Quijote de la Mancha became so famous that it made the jump to other artistic outlets.
Many famous versions of Don Quixote by Cervantes exist. Quixote characters exist in the collective imagination not only from the novel but also from the famous film and theatre Quixote versions, numerous stories recounting the adventures of Don Quixote, cartoons and Spanish television series such as Don Quijote de la Mancha or Donkey Xote, book illustrations such as those done by Gustav Doré for Don Quixote, paintings and sculptures by great artists like Salvador Dalí or Pablo Picasso, etc. All these popular representations have provided us with a clear picture of the protagonist of Cervantes's masterpiece, as well as of his sidekick Sancho Panza.
Since the appearance of the work in 1605 and the second part in 1615, Don Quixote of La Mancha began to be translated into most cultured European Languages which led to its increased fame year after year. Different versions of Cervantes' masterpiece began to appear in other countries like in France. Here, in 1677 a translation of Quixote by Filleu de Saint-Martin included a change of the story's end opting to prolong the ingenious gentleman's life and the title was also modified to History of the admirable Don Quixote of La Mancha.
The novel Don Quijote de La Mancha became so famous that it made the jump to other artistic outlets. Perhaps the most famous examples were the illustrations done by Gustav Doré that can be seen adorning the book covers of many current editions of the novel.
Don Quixote in Music
There are also many famous versions of the Don Quixote musical. In 1614, in the Louvre Palace in Paris, a ballet was presented called Don Quichotte dansé par Mme. Sautenir; one year before the second part of the novel! Following the first ballet, many operas appeared including: The Comical History of Don Quixote by Purcel, Don Chisciotte alle nozze di Gamace by Antonio Salieri, El Retablo de Maese Pedro by Manuel de Falla and more recently, Don Quijotes Abenteuer by Jean Kurt Forest. In 1895 the symphonic poem "Don Quixote" by Richard Strauss was done and in 1968 the album L'Homme de la Mancha by Jacques Brel was composed.
In 1998 a Spanish rock group called Mago de Oz (Wizard of Oz) recorded an album called La Leyenda de la Mancha (The legend of La Mancha). The record was entirely inspired by Cervantes's protagonist and includes songs such as "Molinos de Viento" (Windmills) or "La ínsula de Barataria" (Barataria Isle).
Don Quixote in Film and Television
Don Quixote's movies have also been inspired since the beginning of film. In 1898, French producer Gaumon filmed a short scene titled "Don Quixote" but the images were lost. The first Spanish film production of Don Quixote of La Mancha appeared in 1908 and was carried out by Narciso Cuyás.
In 1933 a Franco-British film adaptation of Don Quixote was produced. The film was directed by Georg Wilhelm Pabst and would become a classic in cinema. In 1972 a cinematographic version of Quixote called Man of La Mancha was released, directed by Arthur Hiller and Peter O'Toole and Sofía Loren. In Spain, a miniseries appeared, directed by Manuel Gutiérrez Aragón and actors Fernando Rey and Alfredo Landa playing Don Quixote and Sancho Panza respectively. Following this television series was another called El caballero Don Quijote (2002), directed by the same director and starring Juan Luis Galiardo and Carlos Iglesias.
The best Don Quixote of La Mancha was undoubtedly the cartoon series done in 1979 by Carmen Delgado. According to Televisión Española (Spain's national TV channel) the cartoon series is among the top 100 best in Spanish history, a faithful adaptation that delighted generations of young people. The main characters' voices were performed by Fernando Fernán Gómez and Antonio Ferrandis.
Don Quixote in Comics
The Don Quixote novel has also been a protagonist in the comic world, most notably in the version done in 2000 by Will Eisner called Quixote. In the year 2005, during the 400 year anniversary celebrations of the novel, the board of Castilla-La Mancha edited the comic book Lanza en astillero. Many authors contributed to the book with the objective of spreading the fame of the famous gentleman from La Mancha.
In 2005 the great Spanish comic (known as "tebeos" in Spain) writer Francisco Ibáñez published Mortadelo de La Mancha. In this work, the catastrophic secret agent Motradelo takes on the role of Don Quixote, fighting just like him in a more modern Spain. Throughout its pages, various famous Spanish politicians can be identified. The comic was a success and sold over 100,000 copies.
Surely Don Quixote of La Mancha will continue to inspire all the arts for another 400 years.